Our Learners work wonderful jobs!
| | |
| --- | --- |
| Costco Wholesale | Northwood Retirement Resort |
| Custom Granite Works Inc. | NuFactor – Healthcare Professionals |
| Grant Thornton LLP | Original Joe's |
| Harvard University, Cambridge, Massachusetts | Peter's Your Independent Grocer Kelowna |
| Impark | RMIT University, Melbourne, Australia |
| Jammery | Rocky Mountain Chocolate |
| Kal Tire | Safeway Canada |
| Kelowna General Hospital | Save-On-Foods |
| Kelowna International Airport | Shoppers Drug Mart |
| La Bussola Restaurant | University of British Columbia, Okanagan |
Successful Learner & Tutor Matches
Support from Project Literacy Changes Lives! – Testimonial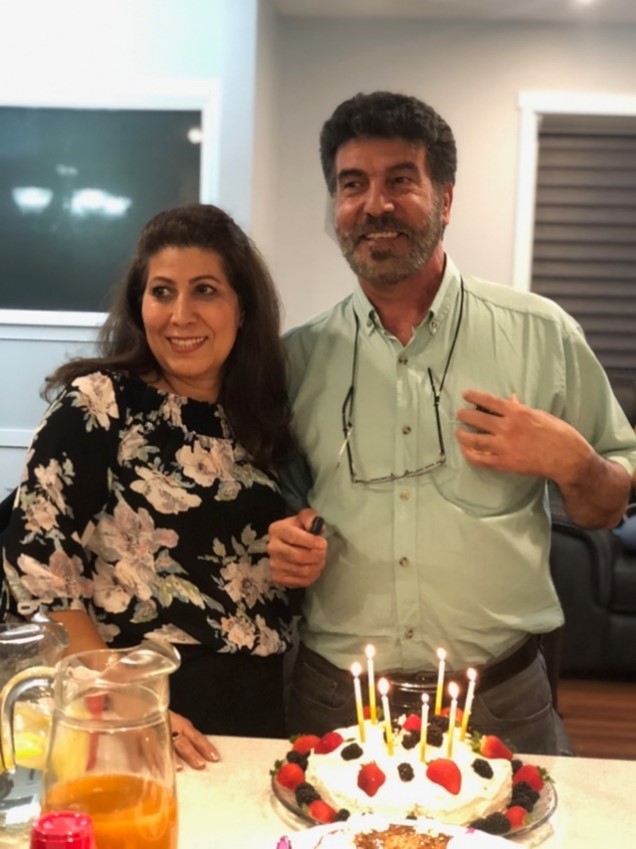 Hello. My name is Fery, and my husband's name is Bahram. We have two children, a son named Borhan, and a daughter named Dorsa.
Before immigrating to Canada, we lived in Iran.  Iran is an Islamic republic under a dictatorship that was prejudiced against non-Muslims. We believe in Bahai faith, so we did not have the freedom or rights of a citizen in Iran, despite our natural citizenship. The Iranian government persecuted Bahai's, killing and arresting members for decades. I was not allowed to study at a university and my husband was fired from every job. With my husband having to travel to find a job and knowing that my children would have to face the same difficulties, we decided to flee the country. In the year 2000, we decided to try to move our family to Canada.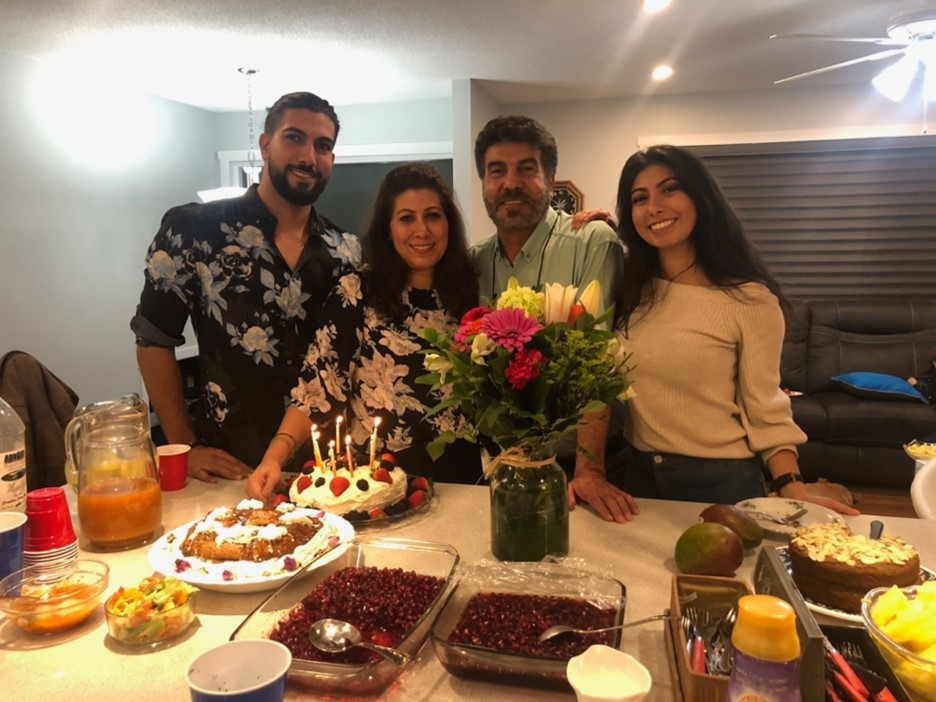 We stayed in Turkey for one year while waiting for a Canadian visa. I knew a bit English, but no one else in my family spoke any English. In the summer of 2002, we came to Kelowna. We felt hopeless faced with the difficulties of learning a new language. We were worried about finding a job with our poor English. I began taking classes at Okanagan College and my husband started being tutored at Project Literacy. Elaine was his tutor. We were very lucky to have her. She was an amazing teacher and helped Bahram learn English and supported him in getting his first job. She was even making phone calls for appointments we needed. Whenever we needed support, Project Literacy, and especially Elaine, was there for us.
With the help of Project Literacy, we were able to get jobs, a house, and our Canadian citizenship (Elaine even came to the ceremony!). Since then, my husband has opened his own business; a small barbershop downtown that he runs alongside our son. I have worked in the dietary department in a nursing home for years. Recently, I decided to become a health care worker. After 10 years, I again turned to Project Literacy for help. I needed help with improving my writing to get into the course, which I completed successfully. I love my job as a care aid. My daughter is now a young woman studying law at University of Victoria. We are very thankful to live in a society that is willing to help and support those who are not even citizens through community organizations such as Project Literacy.
Sincerely, Fery.
Trust builds strong tutor and learner relationships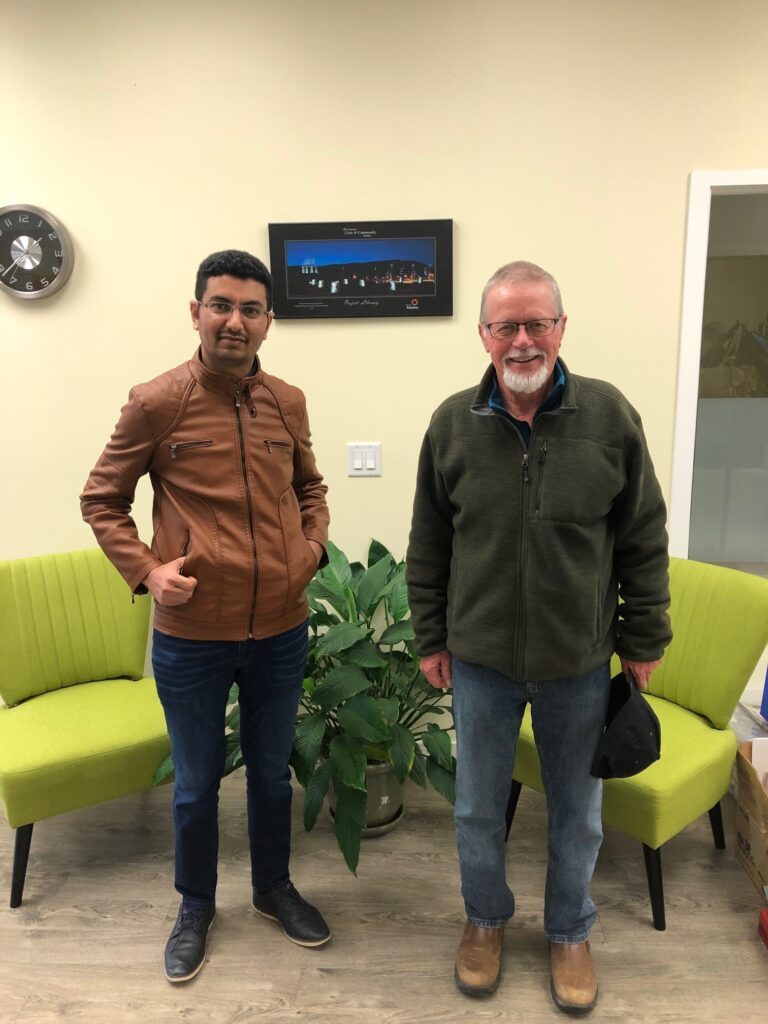 Mohammad is from Yemen. He has his PhD in Electrical Engineering. Mohammad came to Kelowna, in 2017, to work on his PhD at the University of British Columbia Okanagan (UBCO). He initially arrived by himself, leaving his wife, Fatima, and their two children behind. Fatima and the children were reunited with Mohammad in 2018.
Mohammed wanted to improve his accent and to learn Canadian customs. He was referred to Project Literacy by fellow students at the university. At Project Literacy, Mohammed met with Elaine, one of our Education Coordinators. Elaine works closely with the tutors and learners to determine the best fit, and to make sure the tutor can help the learner reach their literacy goals. Elaine paired Mohammed with Dennis and they have been working together since April 2019.
Mohammed says, "working with Dennis has helped my verbal communication when lecturing at UBCO." His success in the One-to-One Adult tutoring program inspired his wife, Fatima, to learn English. Learning English has helped Fatima to connect to community and enjoy her time in Canada. She is also working with a tutor through the One-to-One Adult tutoring program.
Dennis believes "the trust factor has helped Mohammed discuss more personal details and given him a better understanding of Canadian life and how to pursue his goals in that context." For example, Mohammed did not know about taxes. He has a goal to purchase a house but was unaware that owning a house incurs extra taxes. He had to learn that the more income a person earns the more tax the person pays. Additionally, in the 18 months of working together there has been a significant change in Mohammed's accent. Mohammed has worked hard to improve his accent and to learn Canadian customs. Due to COVID-19 restrictions and isolating Mohammed has had fewer chances to practice English. He is thankful for the opportunity to continue meeting with Dennis at Project Literacy's Learning Centre. With so many places closed or providing limited seating, the Learning Centre is one of the few places they can meet during COVID-19.
A common thread
Dohmey and her son are from Sudan, a country in North Africa. Until arriving in Canada a few years ago, Domhey had never attended school and was unable to read or write in English. Communicating with and understanding others was difficult.
Domhey began her journey of learning English at the LINC program put on by the Ki-Low-Na Friendship Society. When the LINC program closed for the summer, she came to Project Literacy. At Project Literacy, Domhey met with Elaine, one of our Education Coordinators to be assessed for the One-to-one Adult tutoring program. Elaine works closely with the tutors and learners to determine the best fit to make sure the tutor can help the learner reach their goals. Domhey is determined to learn English to become more confident in everyday life here in Canada. "It is important to me to be able to communicate when buying my groceries or going to the doctor." Domhey wants to understand when people are speaking to her.
When Domhey comes to Project Literacy she is greeted by the friendly staff who take the time to talk with her. Working with her tutor, Sana, she feels more confident.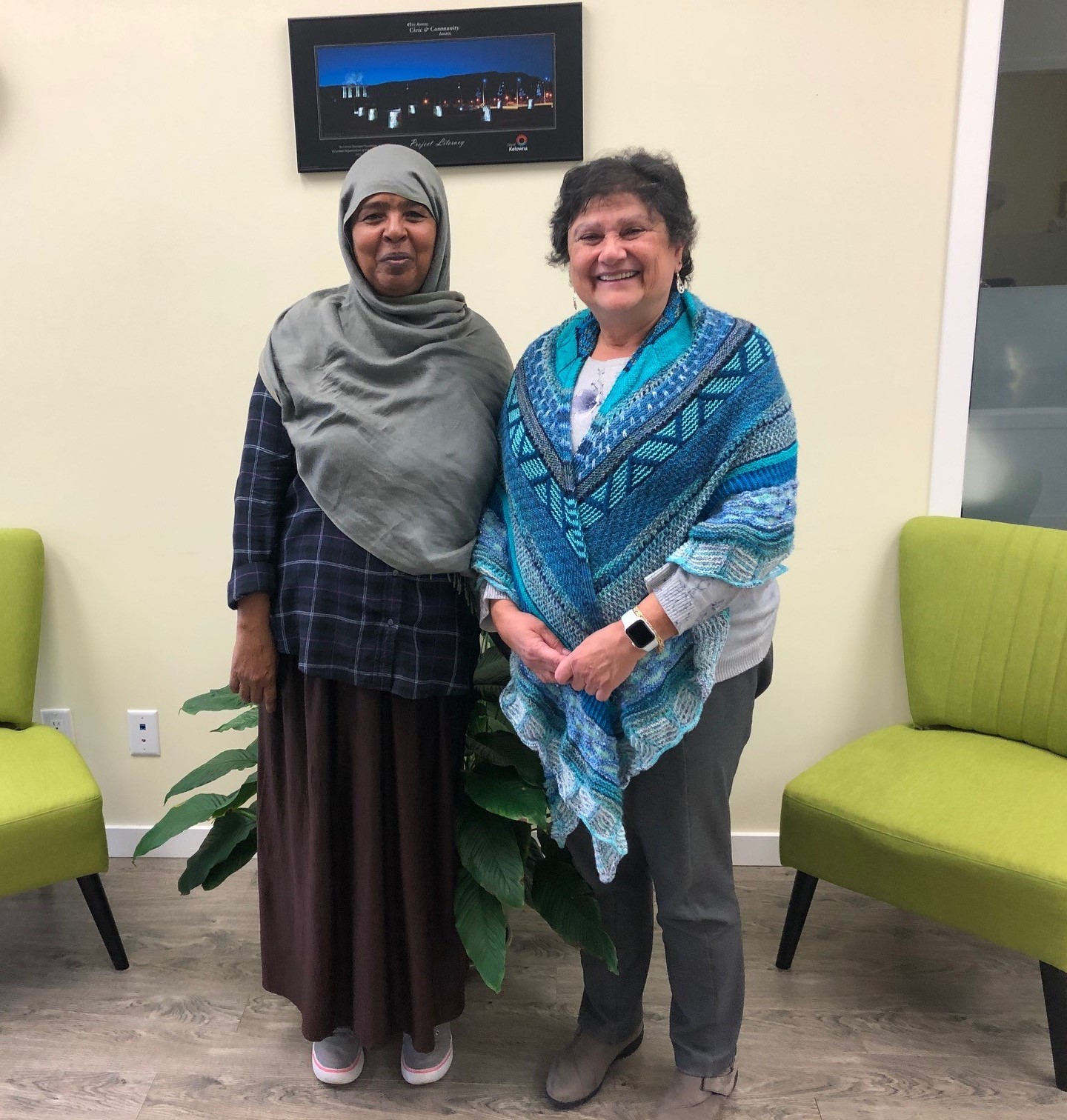 When Domhey first started, she would answer in single words. She is now trying to form sentences. Domhey and Sana can communicate in Arabic when necessary helping to strengthen their tutor/learner relationship. The common language has given Domhey the comfort of knowing she can make mistakes and not get laughed at or judged. Domhey knows she can ask Sana about anything and that Sana will take as much time as necessary to make sure she understands.
Domhey's hard work has given her the literacy skills to be able to understand and communicate with others in the community. Sana says "It is amazing how far Domhey has come in the few short months we have been working together. The more time I spend with her the more she continues to inspire me."
*Valley First and United Way of Southern Interior BC are Community Partners for the One-to-One Adult Tutoring Program.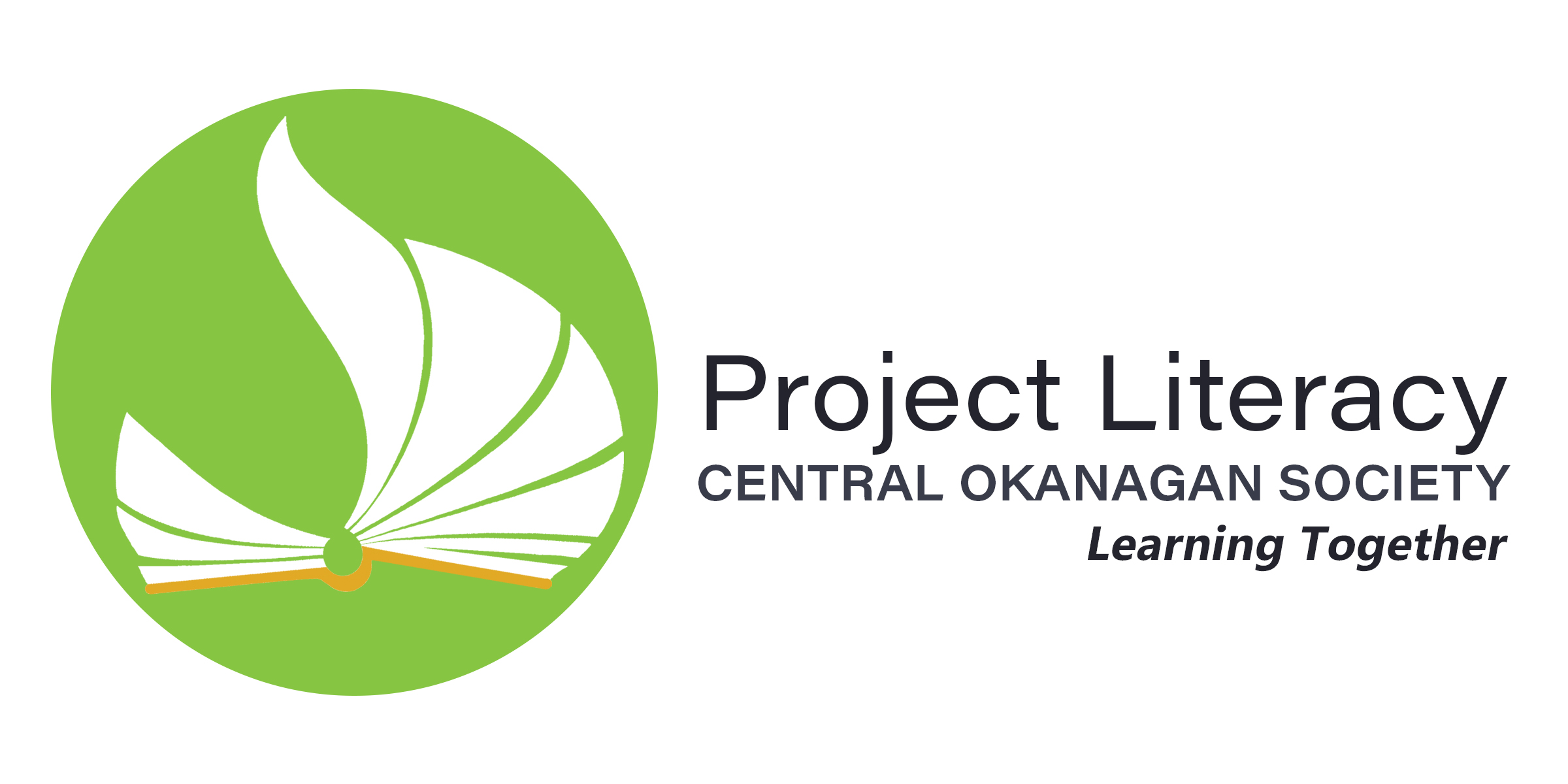 Literacy support improves lives
Two years ago, Adam was homeless.  He had spent the last 20 years as an alcoholic, going from minimum wage job to job with only a Grade 10 level education.
As he began to get help with his addiction, councillors at Freedom's Door pointed him to Project Literacy Central Okanagan Society.  As a child, Adam did well in school and 20 years later, he had a goal to finish high school and begin college.  Adam felt respected by the staff at Project Literacy, describing his first time walking in as "warm, welcoming and uplifting." Project Literacy's educators helped Adam to set a goal – to take his LPI and get accepted into the Electronics Engineering program at Okanagan College.
"Part of my journey was rediscovering my born talent – a gift for working with electronics"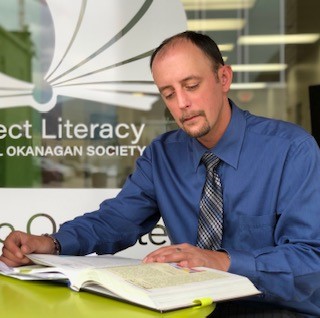 He came to Project Literacy on a regular basis, completing practice essays and comprehension tests.  One of the most memorable moments of his literacy journey was writing an impressive essay off the top of his head.  He says that he'll never forget the educators "running to the other offices and showing it off to people."  Having his talents and abilities celebrated was a new experience for him.
Adam was able to complete his LPI with a fantastic level 5 score.  He has been accepted to Okanagan College and will be starting the Electronics Engineering program in the fall.  Adam says that Project Literacy made him feel like "the sky's the limit" and through that encouragement and support, he's been able to reach his goals and begin a new chapter in his life.
A free literacy based program is necessary for individuals to build their confidence
When Zhenya moved to Canada two years ago, she spoke only Russian.  She was intimidated by going into public where people might ask her questions in English.   Zhenya's low English literacy left her to spend most of her days alone in her apartment, feeling isolated and alone.
Zhenya had a goal to pursue her Permanent Residency and to increase her confidence in speaking English.    When she first visited Project Literacy, her husband spoke on her behalf.  Through working with her tutor, Bev, she made progress on her English skills, influencing her confidence in day to day life.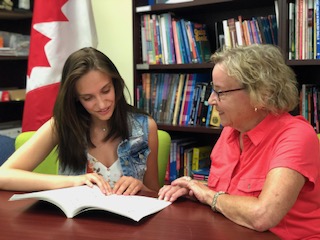 Zhenya is especially grateful to Project Literacy because she found it difficult to find any other services in Kelowna that would help her to improve her skills.
"I hadn't studied English anywhere and only Project Literacy agreed to help me"
Her tutor, Bev, acknowledges that when they first started working together, "Zhenya really had trouble expressing herself."  Coming to Project Literacy gave her a place to be immersed in the language as her friends all spoke Russian and she had previously "had no opportunities to practice English."
Zhenya is now looking for work in a clothing store and regularly volunteers with Project Literacy.  Bev feels that "it's been a positive few months for her," with great achievements and many new goals that she is determined to reach.