Volunteer
Volunteers of the Month
October 2022
Dale Darychuk
Meet Dale Darychuk, our October 2022 Volunteer of the Month!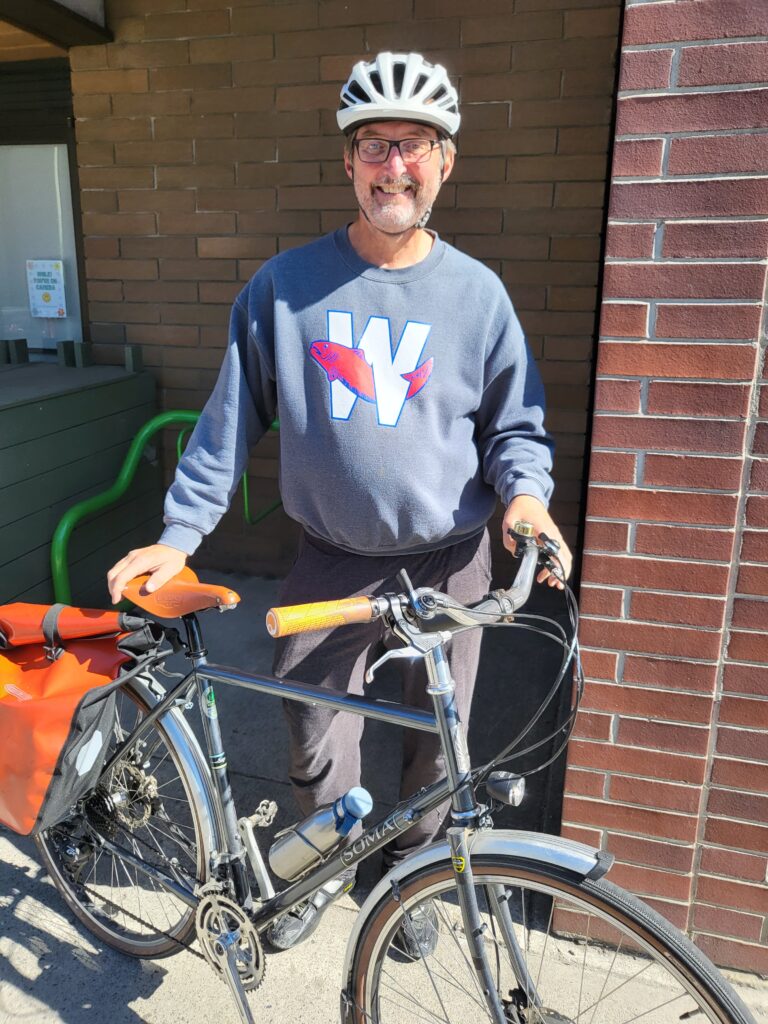 Dale is a retired lawyer who moved to Kelowna, last December with his wife, Tracy, and their three adult daughters. They have one pet: a Flatcoat Retriever named Romeo. They moved from New Westminster and are very much enjoying the Okanagan life with Romeo happily swimming in the lake, most days. They also enjoy volunteering with the Okanagan Fruit Tree Project at their vegetable farm plot — planting, weeding and harvesting some fabulous vegetables for local charities.
Dale became involved with Project Literacy after attending the presentation of their radio play, "For the Love and Apples," presented at the Kelowna Community Theatre in March 2022. He decided to start tutoring as a way to meet some interesting people and make a small contribution to assisting people in adapting to the English language and Canadian lifestyle. As a student of languages and a traveler, he knows the difficulty of learning a new language and fitting into a foreign culture. Dale has no tutoring or teaching experience, however, he has been on the other side as a student while attempting to learn Italian and is empathetic to his students' plight.
Dale enjoys learning from his students about the lives which they left behind to come to Canada. He loves to learn about their country, especially their every day activities, such as what they eat, their transportation systems and how they spend their personal time. Dale also takes delight in enlightening his learners, in return, about Canadian elements such as the hockey team: Toronto Maple Leafs, not "leaves" — despite it being grammatically incorrect. He knows that English is an extremely difficult language with all it's silent letters, idioms and own set of rules. He truly enjoys his time at Project Literacy and it's very rare that Dale and his students don't have a good laugh in their lessons.
Dale has great admiration for the hard work and diligence his students have in attending their weekly lessons whilst also working full-time and adjusting to Canadian life. It is always inspiring for Dale to meet that diligence and do his best to encourage them and to give them the opportunity to achieve their goals in their new lives.
When he is not spending his many hours at Project Literacy, Dale loves cycling, reading, and gardening. He and his wife also enjoy new challenges. Since coming to Kelowna, they have taken up rowing and they are working on eliminating the pontoons on their rowboat. They've also taken up tap dancing! Their middle daughter was married in July and they performed a tap dance to the song "Crazy Little Thing Called Love," at their reception. They had so much fun with the choreography and hope to create another routine for Christmas!
We are so happy to name Dale as our October Volunteer of the Month!
September 2022
Dennis Averill
Meet Dennis Averill, our September 2022 Volunteer of the Month!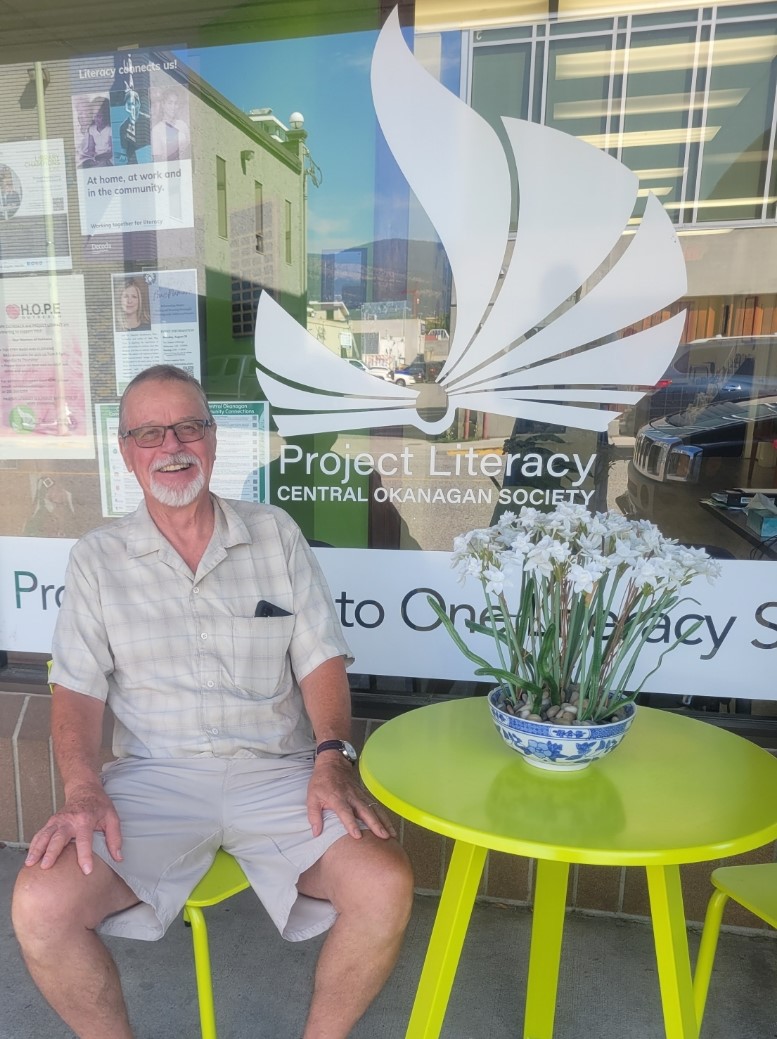 Dennis lives with his wife, Judy, and their two cats.
He has been volunteering with Project Literacy for four incredible years.
Before tutoring with us, Dennis was a teacher for over 40 years. He taught elementary, middle and high school and college students. He also delved into the administrative side of education.
He began tutoring with Project Literacy because he enjoys working with adults, especially new immigrants to Canada. Not only do they learn from him but he loves learning from them — new things from each one.
Dennis enjoys seeing the different perspectives from various cultures. It fills him with a sense of gratitude for having been born into a Western culture.
In his spare time, he loves to exercise, dance, explore local surroundings, target shoot, Single-Lens Reflex (SLR) camera classes, researching UFO phenomena and watching movies. He a true movie buff.
We are so pleased to name Dennis as our September Volunteer of the Month!
August 2022
Tom Morton
Meet Tom Morton, our August 2022 Volunteer of the Month!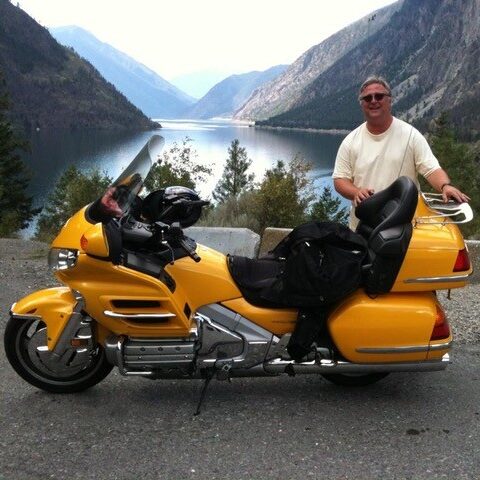 Originally from Winnipeg, with stops in Calgary and Vancouver, Tom and his family decided to retire to Kelowna in 2021. He shares a role of servitude for two alpha felines: Blue and Figaro.
After joining Project Literacy through their Volunteer Fair in September, he was entrusted with his first learner in October 2021 — UBCO foreign students and two families who decided to immigrate to Canada and make Kelowna their new home.
Tom's professional experience includes corporate training, however, Project Literacy is his first opportunity to support individual learners. Appreciation for the teachers and professors who left a positive imprint in Tom's life was a catalyst for his decision to become a tutor at Project Literacy.
Also, growing up in an ethnically diverse neighbourhood in Winnipeg, witnessing the challenges immigrant families faced as they started their new lives in Winnipeg, contributed to Tom's decision to help newcomers to Kelowna learn English and assist them with their transition to Canada.
The leadership, guidance and support by the team at Project Literacy provide the relevant tools and curriculum necessary to help learners achieve their English language goals.
Complimentary, and equally important, is the opportunity to help leaners with a variety of tasks that could include academic papers for UBCO students, reviewing driver education manuals, completing government forms, resumés, job applications etc. Tutoring at Project Literacy is also a learning experience for tutors as learners share stories about their countries' culture, history, events, politics and family experiences. Their excitement for a new life in Kelowna and Canada is contagious.
Tom's greatest pleasure is time with family and friends.
Tom is active with Prostate Cancer Foundation British Columbia as a member of the Board of Directors and the organizing committee for the West Coast Motorcycle Ride to Live. Also, joining the Kelowna Newcomers Club has been an excellent opportunity to meet people who share similar interest in sports, cultural events, dining and entertainment.
We are so very delighted to name Tom our August Volunteer of the Month!
July 2022
Ann Dinnert
Meet Ann Dinnert, our July 2022 Volunteer of the Month!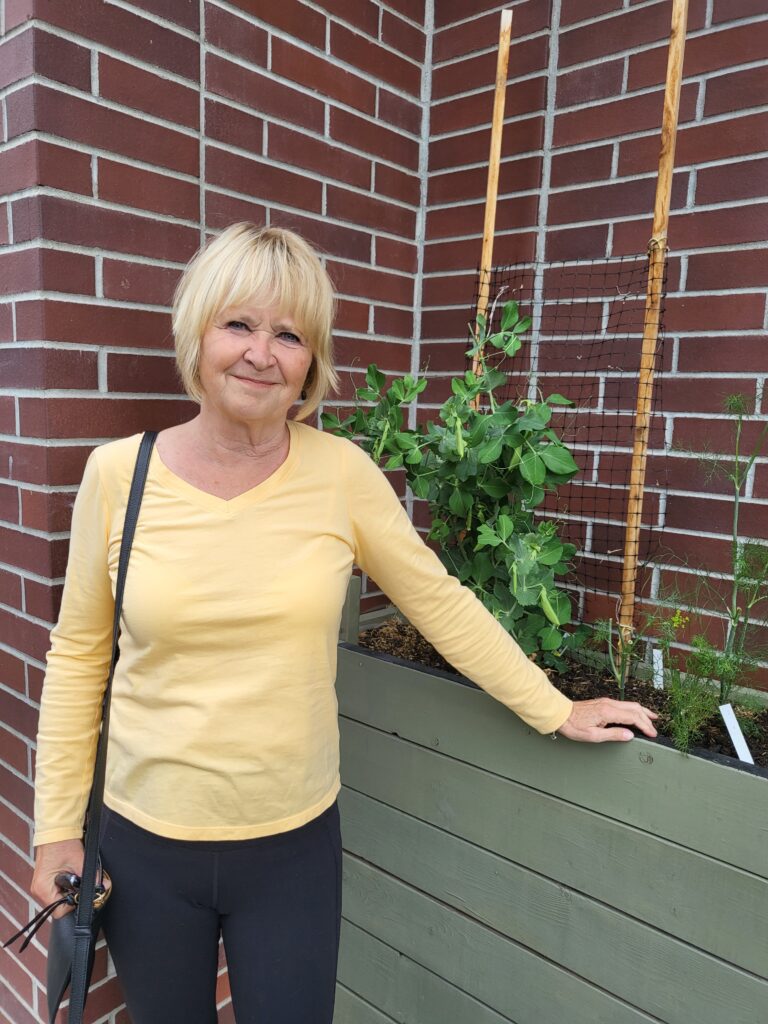 Ann is married to Bernd, an immigrant from Germany, many years ago. They lived in Toronto and the surrounding area for most of their working lives, before they retired and moved to Kelowna in late 2015. She has an independent step-daughter, Sabine, and a dog, Callie.
She has been volunteering with Project Literacy since 2017.
Before tutoring with Project Literacy, Ann was a successful lawyer. As such, she has an deep appreciation for the English language, and she also enjoy learned new languages herself. In doing so, she felt that she had something to contribute to the language learning community.
The passion started with the Syrians, who were in the news in 2016-17. She enjoys international travel, and wanted to do something to help the Syrian Refugees integrate smoothly into Canada. She found they were largely coming to Kelowna and, in the process or her search to help, she found Kelowna Community Resources. This amazing centre partners with Project Literacy, which later lead Ann to our Learning Centre! She found that teaching English was the way she felt most suited to helping immigrants.
Ann loves helping immigrants to integrate and feel welcome within Canada. She also takes pleasure in learning from them about their own lives and cultures in their home country, and their new lives in Canada. She also, very much, delights in learning about how to teach, and how each person learns differently; things that she has been learning organically whilst tutoring.
Ann enjoys pretty much all of what Kelowna has to offer, including hiking, boating, downhill skiing and snowshoeing, golfing, wine, reading and travel.
We are so very delighted to name Ann our July Volunteer of the Month!
June 2022
Sanaa Katula
Meet Sanaa Katul, our June 2022 Volunteer of the Month!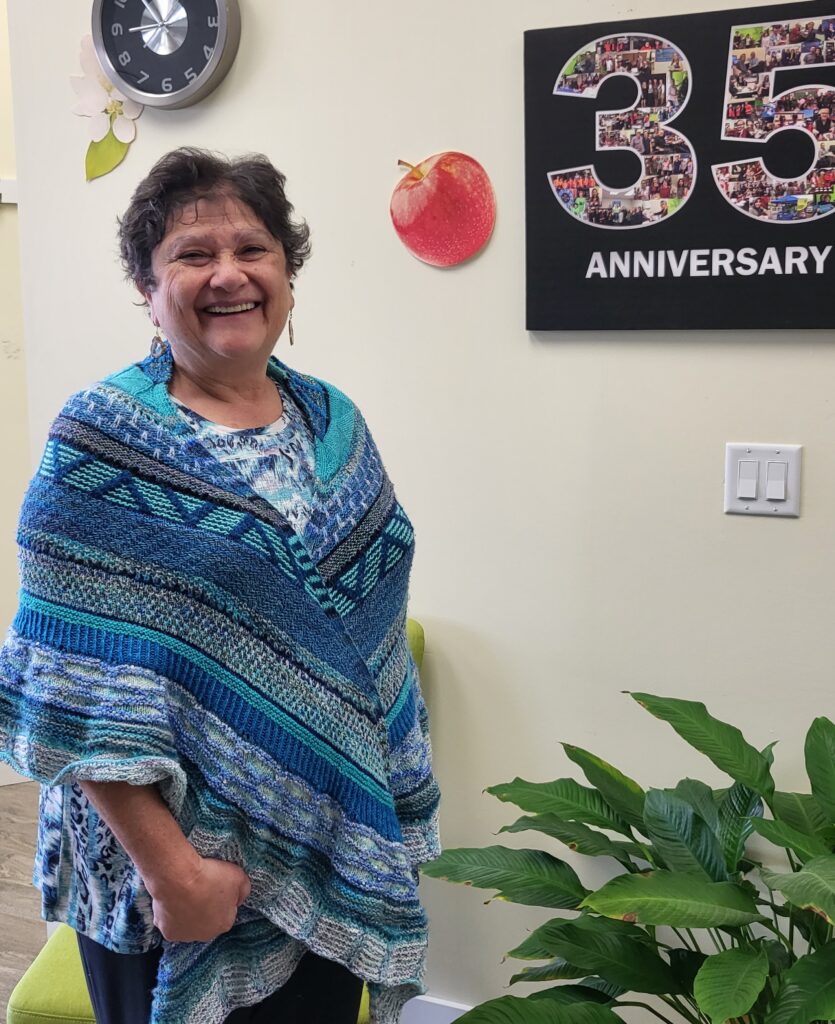 Sanaa moved to Canada almost eight years ago with her two younger boys. Her two older sons remained in Lebanon. All four are her pride and joy.
She has been volunteering on and off since for over fifteen years.
Sanaa is a teacher by profession with a degree in special education.
She knows how difficult it is to move to a new country, especially when one doesn't speak the language. It is so easy to feel isolated when you can't communicate with people outside your household. Sanaa is so glad she can make use of her qualifications and empathetic nature to help.
For Sanna, the best part about tutoring is the students. She has been so lucky to teach so many inspiring people who are determined to learn, and who, in spite of the many difficulties, still manage to come regularly, on time, with a smile on their faces.
In her spare time, Sanaa loves all kinds of crafts: knitting, painting, mosaics, and quilting. She enjoys taking long walks in Kelowna's beautiful parks. Her greatest passion, however, is reading.
Sanaa is a lovely bit of sunshine, here, at Project Literacy and we are so pleased to name her the June Volunteer of the Month!
May 2022
Geoffrey Barrow
Meet Geoff Barrow, our May 2022 Volunteer of the Month!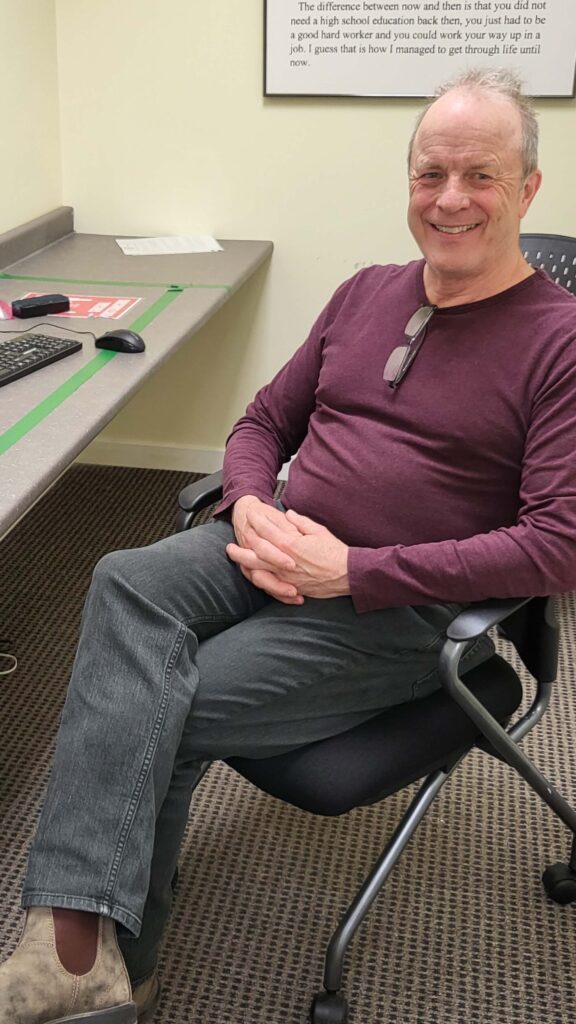 Geoff is married, retired, and a proud grandparent. He feels he is pretty much living the dream.
Geoff has been tutoring with Project Literacy for almost eight years! Having never taught or tutored before, this was a new experience for him and he's never looked back. He has always enjoyed reading and wanted to extend this skill and passion to others. Upon his retirement, he found he had more time at his disposal and chose to join Project Literacy to do just that.
Most of the Learners he has tutored, over the years, have been recent immigrants to Canada. From them, he has learned a great deal about their countries of origin and the cultures from which they come. Through them, he is reminded of how fortunate we are to live in Canada. By them, and their dedication, he is constantly inspired. Being able to share their successes is just a bonus for Geoff.
In his spare time, Geoff enjoys hiking, kayaking, and cross-country skiing. His grandchildren are the greatest pleasures of he and his wife's lives.
Geoff is a dedicated and generous Tutor, here, at Project Literacy and we humbly award him the title of May Volunteer of the Month!
April 2022
Blaine Rose
Meet Blaine Rose, our April 2022 Volunteer of the Month!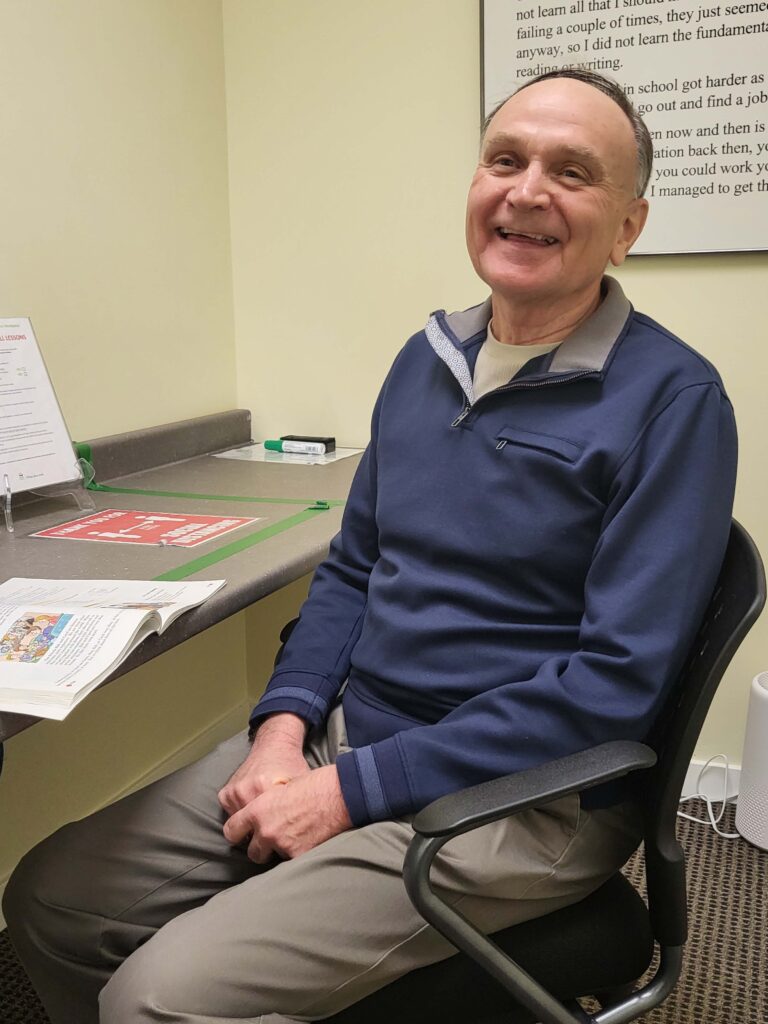 Blaine grew up on a farm in southwestern Manitoba and as a young lad, enjoyed the cattle and especially the playful newborn calves. Eventually Blaine moved to Alberta and worked as an elementary school teacher in Northern Alberta, teaching indigenous students for 2 years prior to teaching in Calgary. When he retired from teaching, he worked as a 'Work Experience Advisor' at a private college, in Calgary, before settling in Kelowna.
Before tutoring with Project Literacy, Blaine had experience working as a private tutor with elementary school students. Once he was retired he wanted to find meaningful ways to spend his time and approached Project Literacy to begin volunteering. A couple of years later he also began volunteering as an ambassador at Kelowna's airport. Blaine has now been volunteering with Project Literacy for 12 years.
Blaine enjoys working with the students one-on-one at Project Literacy and getting to know them. Blaine loves that Project Literacy is a warm , welcoming environment with a caring and committed staff.
These days, Blaine likes to spend time with his family and friends. He loves to read, play golf, volunteer and he's looking forward to being able to travel again once it is safe to do so!
Blaine is such a positive asset to Project Literacy and we are proud and grateful to him for so many years of support and service. We are honoured to call him our April Volunteer of the Month!
MARCH 2022
Glenna Turnbull
Meet Glenna Turnbull, our March 2022 Volunteer of the Month!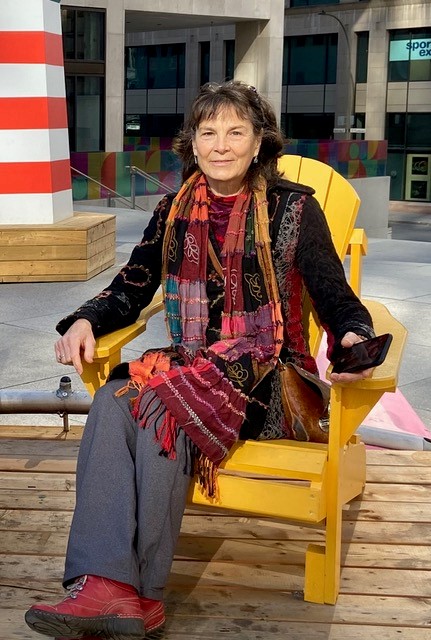 Glenna started volunteering with Project Literacy back in 2011 as a member of the board. She completed a two-year term and enjoyed it very much. She also helped organize and promote the Wine & Words fundraising event with some other amazing board members. It wasn't until COVID-19 hit and her professional workload lightened substantially that she was able to start volunteering as a tutor in the summer of 2020. She felt very lucky to learn early in life how wonderfully satisfying it is to volunteer. While serving on Project Literacy's board, Glenna glimpsed the impact that tutoring could have on people's lives, so once her schedule and solo parenting duties made it possible, she put in her application to tutor.
What she loves most about tutoring is the amazing opportunity it gives her to meet and work with people who are eager to learn. Without fail, every session with every Learner has some instance where they find themselves laughing and Glenna says she has learned so much from the people she tutors. "It's incredibly satisfying!"
When not tutoring at Project Literacy, Glenna is an avid skier, hiker, and commuter cyclist. She loves camping and snowshoeing, as well, and prefers to be outdoors whenever possible. Yoga has been a huge part of her life for more than two decades as it helps both mentally and physically to cope with life's stresses, as does playing the piano (Royal Conservatory Grade X). Glenna has had several short stories published in literary magazines and currently has two novels that she is seeking representation for. She is also just starting to work on a third.
Glenna raised two sons as a single parent while putting herself through university, taking one or two courses per semester. Her 'boys' are now two amazing young men, both of whom she is extremely proud. Glenna has worked as a freelance writer and photographer most of her adult life and work as a stained-glass artist. She now has two dogs – a wise and amazing senior Border Collie named Finnigan and a new addition, a Great Bernadoodle puppy named Oscar. She is a regular volunteer at the Central Okanagan Food Bank as well as at Project Literacy. Glenna also taught piano when she was younger, during her university years. She had the privilege of being a teaching assistant for her Creative Writing professor, John Lent. Other than that, however, she had little experience with teaching and/or tutoring and that made her nervous. She wasn't entirely sure how to start and hoped she'd learn what to do quickly!
We feel so lucky to have such a committed individual volunteer with us. Glenna's passion knows no bounds and she always jumps at the chance to help whenever needed. We didn't hesitate when coming to conclusion of choosing her for our March Volunteer of the Month!
FEBRUARY 2022
Byron Johnstad
Meet Byron Johnstad, our February 2022 Volunteer of the Month!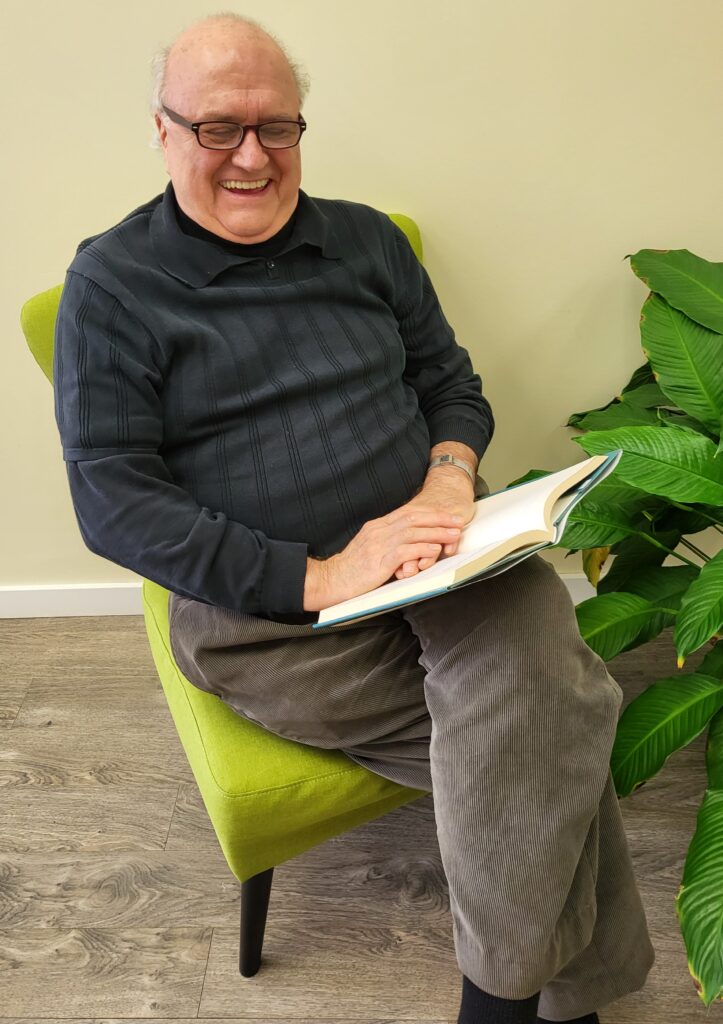 If you visited the Project Literacy office over the Christmas holidays, you would have seen some of the lovely decorations, including a beautiful wreath that Byron graciously donated for our Holiday 2021 Season. Byron was born and raised in Chicago, Illinois and immigrated to Vancouver in 1967 and attained his Canadian citizenship in 1973. So, immigration is also part of his personal story.
Byron has been tutoring with Project Literacy for approximately 8 years! He holds a Master's Degree and taught for nearly 27 years in post-secondary institutions in BC. After retiring in 1997, he has worked at keeping his time, mind and skills engaged with post-retirement activities such as teaching, along with display design and teaching Interior Design. Byron sees volunteering is one of the ways that he can give back to his community and being part of Project Literacy allows him to share and utilize his teaching experience and instructional skills.
Through volunteering at Project Literacy, Byron feels tutoring English to new Canadians is a very meaningful way to create real change in our learners lives. Byron says, "acquiring and expanding language and knowledge of Canada gives our learners skills that help them integrate, achieve, prosper"… thus, they become a more comfortable resident in their newly adopted country and with a new language.
On a more personal note, Byron has maintained an aesthetically developed home and garden and enjoys searching for undiscovered and undervalued antiques or collectibles in local thrift shops. Byron acknowledges that at his advanced age of 8o he is required to cut back on some of his more physical activities, however teaching is using the brain muscle and it is easy enough to continue to exercise this way!
Project Literacy would like to thank Byron for his enthusiastic efforts and years with us. We are proud to honour him, with the title of February Volunteer of the Month!