May 2023
Gary Alzomal
Meet Gary Alzomal, our May 2023 Volunteer of the Month!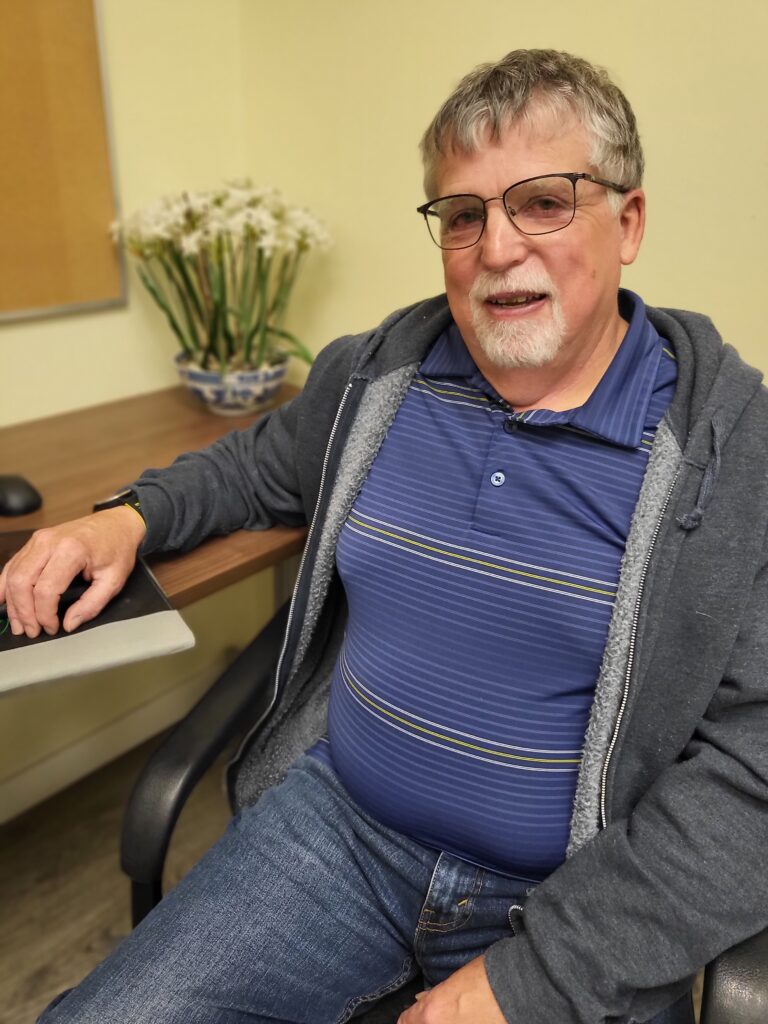 Gary is originally from Regina, Saskatchewan. He is married to his wonderful wife, Kim. Approximately 7 years ago, they relocated to the Okanagan after retiring from careers teaching in rural Saskatchewan. They enjoy spending time with their family and especially with their 3 grandsons in Calgary and Okotoks.
Gary has been volunteering as a Digital Tutor with Project Literacy for about 5 years.
He was a high school teacher in rural Saskatchewan for 35 years teaching — mainly teaching Math, History and Computer Science/Applications. For the last 8 years of his career, he was a Digital Learning Coach, working with individual teachers in classrooms to enhance their digital skills. He was also part of a team that presented numerous workshops introducing new approaches to using technology in the classroom. He also taught introductory wordprocessing, spreadsheets and basic computer skills for adults at the local community college. Teaching and learning with technology has been an important part of Gary's career for over 40 years.
He has always enjoyed teaching and learning. Working with adults has been a major influence in his career. It led him to go back to university later in life to obtain a Master's Degree in Adult Education. Gary sees himself as a lifelong learner and thoroughly enjoys providing learning opportunities to other adults, especially seniors. His teaching style involves finding  a way to make technology work for the student in their own situation, enhancing their existing skills which leads to more confidence in using their devices. The one-to-one tutoring Gary does at Project Literacy works well with his teaching style. 
Gary thinks the people at Project Literacy, both staff and students, are great! He feels that the connection tutors make with their students is one of the best parts of tutoring. Working with students is rewarding especially when they reach that "Ah ha!" moment and they realize they can perform a new skill.
When not tutoring, Gary likes to read, golf, curl, cross-country ski, go biking and enjoy taking walks in the Okanagan sunshine. He and his wife also enjoy travelling, both, throughout Canada and abroad. Gary has a keen interest in history and enjoys discovering local histories everywhere they travel.
Gary is a vital part of the Project Literacy world and we are incredibly delighted to name him as our May Volunteer of the Month!
April 2023
Judy Arnold
Meet Judy Arnold, our April 2023 Volunteer of the Month!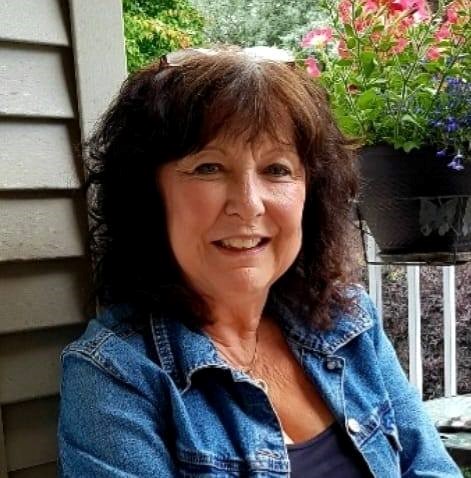 Judy and her husband, Alan, grew up and worked in Ontario for many years. They came to British Columbia in 2001 and moved to Kelowna in 2012 when Judy was working in the Yukon. She formally retired in 2017 but continues to do consulting work with the First Nations in Yukon. Judy and Alan, have two sons and a daughter. One son and their two grown grandchildren live in the Kelowna area. Their middle son lives in California and has a seven-month-old son. Their daughter is an English Department Head in Burnaby. They have two dogs, both schnauzers — the elder dog is Tucker and the younger is Skyler.
Judy began volunteering with Project Literacy since 2018.
Prior to joining Project Literacy, Judy had a background in education and had completed masters and doctorate degrees in leadership and curriculum design. She began as a teacher and then became a Principal and held various leadership positions at the Ministry in British Columbia and the Department of Education in Yukon.
She continues to be interested in education as a key to the success of all learners, children or adults, and as she had not worked with adult ESL learners, previously, it presented her with a brand new challenge.
She enjoys individualizing approaches and programs to suit the needs of each learner. One tactic she uses is taking them shopping so they can better identify the products they need on a daily basis. She also enjoy watching her students grow as English learners and as new members of Canadians society.
Judy and her husband love to travel around the world and to learnabout different cultures and meet amazing new people. She also loves gardening, exercising, hiking, and kayaking in the summer.
Judy is such a beacon of joy when she comes to the learning centre and we are so very pleased to name her as our April Volunteer of the Month!
March 2023
Ruth Walper
Meet Ruth Walper, our March 2023 Volunteer of the Month!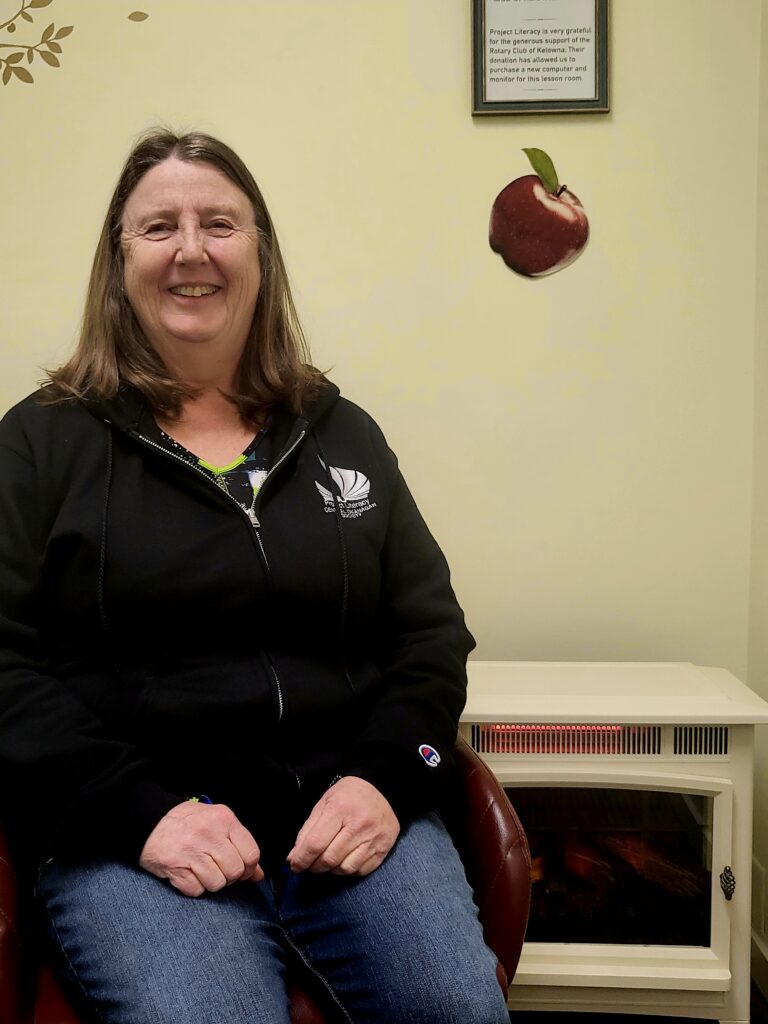 Ruth is a retired Accountant and had a 30 year career with several municipalities around B.C. She is divorced and has a son and daughter and five grandchildren that she loves very much. She was taking a course with CREST, a Christian Leadership program when she moved to Kelowna in the summer of 2013.
One of the suggestions in the course was that they be involved with a non-profit organization. Ruth saw an ad by Project Literacy looking for Volunteer Tutors and contacted the office. She was then interviewed and accepted as a Volunteer and took a brief training course with several others. Ruth started with us in the fall of 2014.
Before tutoring with Project Literacy, Ruth had no prior tutoring/teaching experience. She had been a speaker at some of her accounting and municipal conferences but no teaching experience to speak of. She did, however, traine and encourage staff during her career and has found that experience applicable to tutoring.
Ruth has found the friendly environment and offered training by Project Literacy to be exciting and she was eagre to start tutoring. Once, one of her students asked Ruth what she wanted to do when she was a child. Thinking back to that time, she responded with "I wanted to be a teacher." Her student said, "Well now you are!" Until that moment, she hadn't realized that she indeed was! Ruth is now doing what she's always wanted to do since she was a little girl.
Ruth really enjoys talking with her students and getting to know them better. As they learn better English their conversations get more in depth, and she loves to see this happen. Often, she learns about the students' cultures and that increases her empathy and knowledge about their differences and similarities.
In her free time, she loves to read and to do group studies of books. She started dancing with her father shortly after her separation and consequent divorce. She really enjoyed doing that, although she hasn't done it for a few years. She may just start doing it again! IRuth also likes to swim, practice yoga, hike and walk. She also loves to visit with her son and his girlfriend and also her daughter, her husband and Ruth's grandchildren. They often look for some kind of adventure to undertake, as a family, such as the butterfly world, Kangaroo Farm, botanical gardens, etc.
We are so very happy to name Ruth Walper as our March Volunteer of the Month. She is truly a kind and generous addition to the Project Literacy family!
February 2023
Sylvester Abanseka
Meet Sylvester Abanseka, our February 2023 Volunteer of the Month!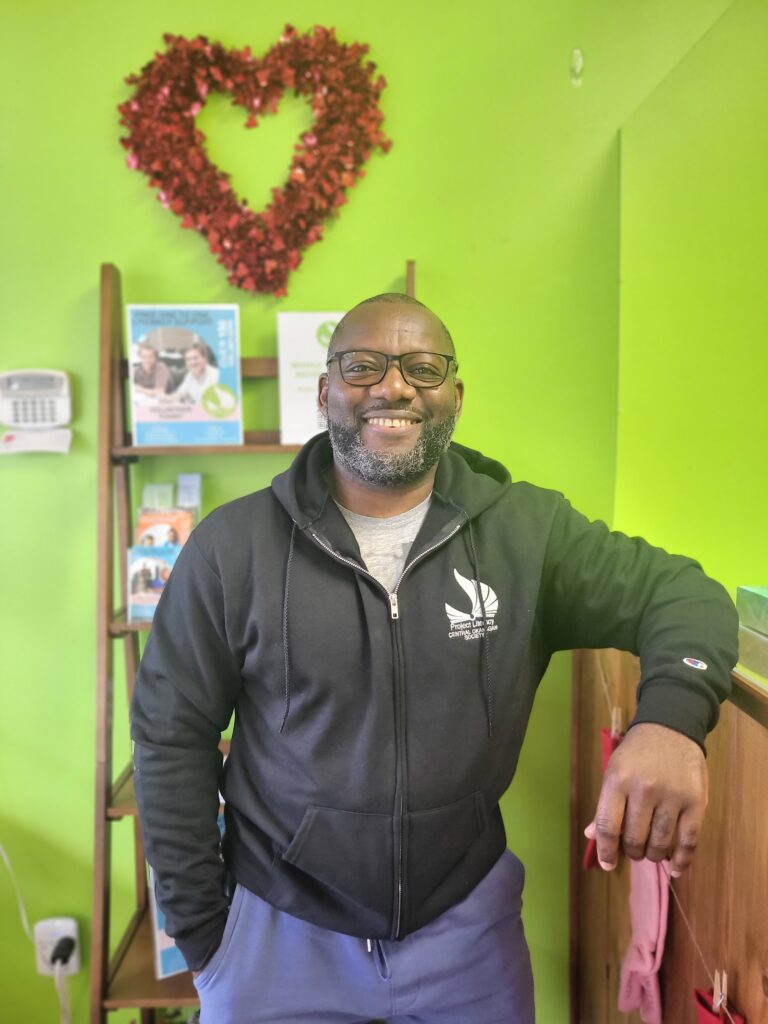 Sylvester is a "continental trotter," having moved from Africa (Cameroon) to Europe (England) and now North America (Canada). He works with a cyber security company based in the US. Sylvester is married with four children (in two sets); the first two are 23 and 21 and the second two are 14 and 12. They also have a dog – Banla, a Schnoodle who will be a year, next month. Banla is a name from Sylvester's tribe in Africa.
Sylvester joined Project Literacy in August 2022 as regularly saught after Digital Tutor. This wasn't his first experience with teaching digital literacy as he did something similar in the UK. There, he would train people at work, from time to time, as part of his daily tasks, albeit on more security-focused topics.
Sylvester decided to start tutoring with Project Literacy as a small way of giving back. Sylvester believes that he is who and where he is, today, because someone spared time out of their hectic schedule to volunteer for a charity that he was attached to. So whenever and wherever he can he tries to do something within the community.
Besides digital tutoring with Project Literacy, Sylvester has also volunteered to:
Walk retired greyhounds who were awaiting adoption.
Courier medication and other duties to senior citizens as part of the British Red Cross.
Be part of a rescue team of 4×4 owners to help people stranded or stuck in harsh weather conditions.
Sylvester loves digital tutoring with Project Literacy because he witnesses the joy and confidence that his learners develop very quickly in being able to use their devices or perform other tasks. He also enjoys the variety of challenges and people he gets to interact with.
In his free-time, Sylvester partakes in martial arts and has practiced a few different types. He is currently practicing Jiu Jitsu, mainly for cardio. He also likes to travel with his first method of choice being driving from point A to B. If he can drive it, he will try it! He loves cars and always has a desire to try as many different cars as possible. This is a perfect bonus with his love for road trips.
Generally, Sylvester loves animals as he grew up having quite a few at home and the funny thing is his dream job was originally to be a farmer. Maybe that will be something that comes to fruition in his retirement.
We are so very happy to name Sylvester Abanseka as our February Volunteer of the Month and are so grateful to have him in our Digital Tutoring roster!
January 2023
Basil and Rita Skodyn
Meet Basil and Rita Skodyn, our January 2023 Volunteers of the Month!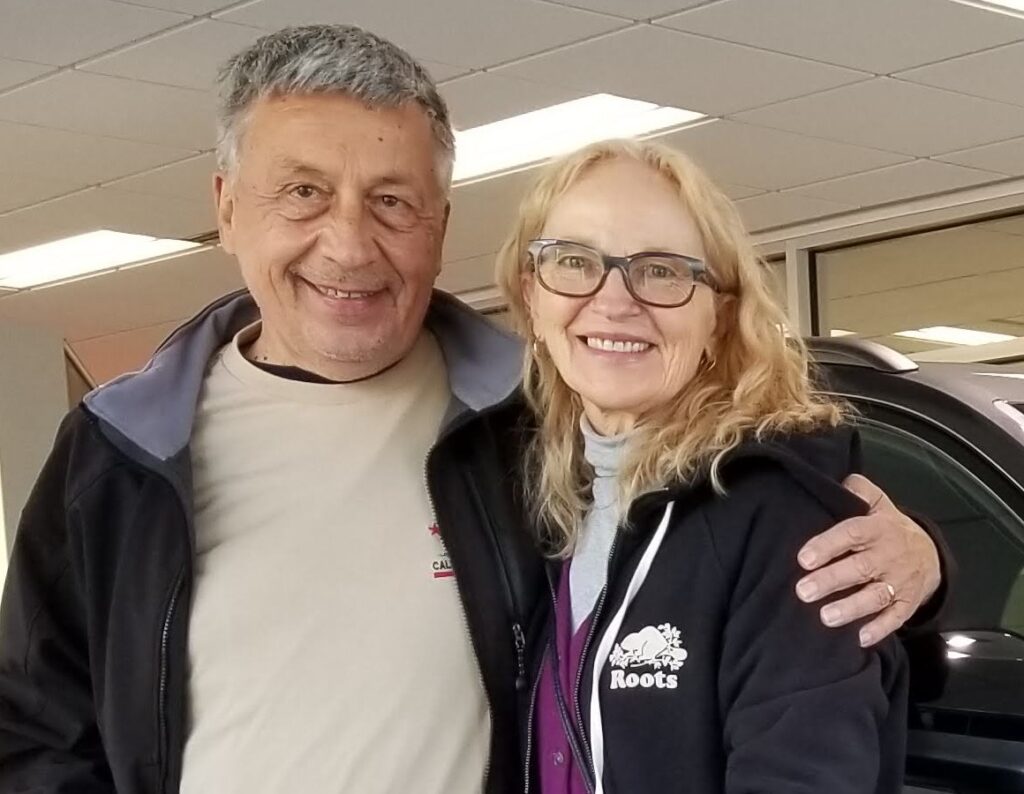 Basil and Rita have been married for 33 years. They are both retired. They have two daughters and one son who live in Vancouver, Calgary and Toronto. They have four grandchildren, all girls, aged 13, 15, 20 and 22.
Basil
Basil is an immigrant to Canada and has lived here for more than 50 years. English is his second language but he began learning it as a child of 5 or 6 years. He can appreciate the difficulties of a new language, especially to an adult.
Prior to retiring, Basil was a teaching assistant at UBC in Vancouver for two years as I worked on my masters degree in English literature.
He has been tutoring with Project Literacy for approximately 5 years. He saw how much enjoyment tutoring gave Rita so he asked her to refer his name to Project Literacy as a potential volunteer. He enjoys meeting new people who wish to learn English so they could make a new life in Canada.
Basil enjoys taking walks with Rita and watching movies. He likes crossword puzzles and card games, biking, golf, and other outdoor activities.
Rita
Although, she was not a teacher, Rita taught library classes when she was a Librarian at a small school. She also volunteered with West Kelowna schools, tutoring students who were struggling with reading.
Rita began volunteering with Project Literacy in 2015. She really likes helping people. Her parents were immigrants and she knows of the struggles involved in starting over in new country. Rita felt that with her experience of copyediting and working in a library, she could aid people in learning English.
She's truly enjoyed getting to know people from all over the world – Kazakhstan, Dominican Republic, Syria, Morocco, Quebec and Ukraine – and learning about their cultures. She's also loved sharing our Canadian culture with them and helping them improve their English.
Rita loves walking and will often walk from their home, in Lakeview, to either Kelowna or West Kelowna! She's been vegan for 15 years and enjoys experimenting with new recipes. Basil is a good sport about trying the things she makes…he's even tried tofu although it's not his favourite. Rita also volunteers with the Kelowna dog rescue: Paws It Forward — an amazing organization that helps countless dogs. Additionally, she is utilizing the Duolingo language app to learn a little Ukrainian so she can better understand the challenges her Ukrainian learners have with understanding English. She finds it fascinating. There's never enough time in the day to do everything she wants to do but she does her best to do quite a bit.
We are so very thrilled to name the dynamic duo, Basil and Rita Skodyn as our January Volunteers of the Month!
December 2022
Geraldine (Gerry) Hewitt
Meet Gerry Hewitt, our December 2022 Volunteer of the Month!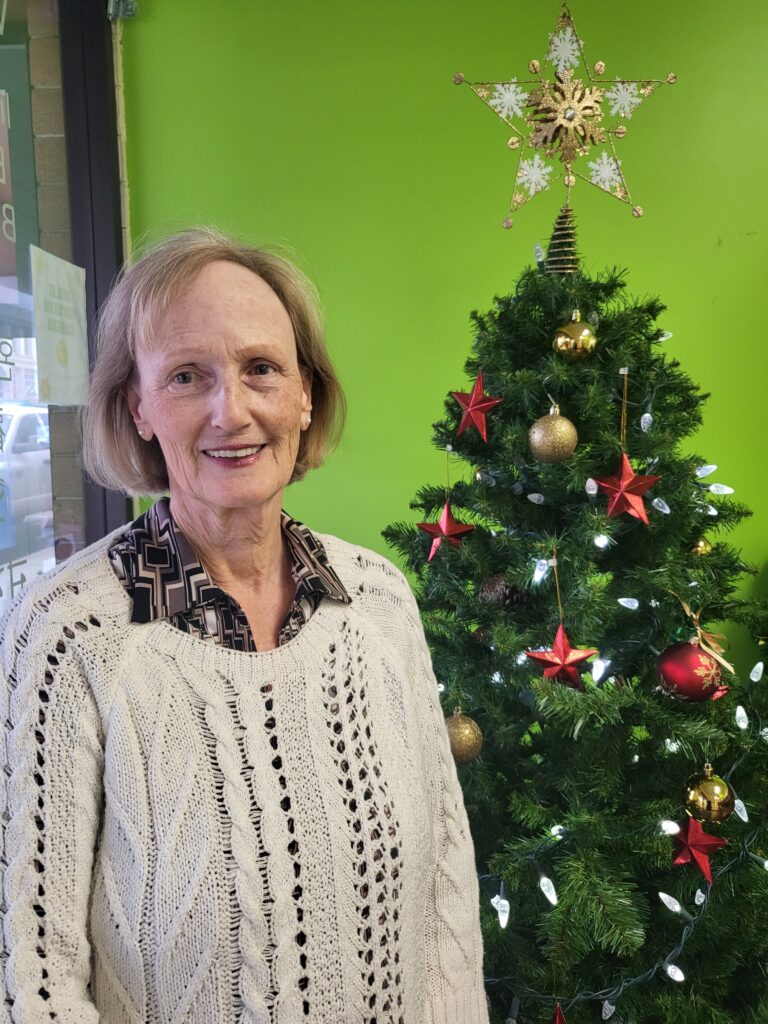 Much of Gerry's life has been spent travelling and living in other places, especially Australia where she lived for 13 years. She still returns regularly to Australia to visit her son and his wife. Her daughter, on the other hand, lives close by in Vernon with her lovely Siamese cat, her grandpet, Theo.
Gerry has had the pleasure of volunteering at Project Literacy for approximately 8 years!
She became interested in teaching English as a Second Language, in Australia. She recognized there were challenges being in a new culture even with a shared language so she became involved with an ESL program for immigrants called Each One Teach One. This interest in teaching ESL continued when she returned to Canada; volunteering for Kamloops Immigrant Services, and returning to UBC for more ESL training. Then began a long teaching career at Thompson Rivers University in Kamloops where she prepared international students to learn English for their academic programs. The students came from all over the world – Asia, South America, Europe, the Middle East. It was exciting and gratifying to teach and learn about so many languages and cultures and to be with these students as they prepared for their future.
Volunteering as a tutor at Project Literacy was a natural next-step when Gerry retired and came to live in Kelowna. She had always enjoyed teaching ESL and, with an introduction to Elaine and all those working at the Learning Centre, she felt welcomed to Project Literacy. At Project Literacy, helping someone to learn English is more than teaching and/or learning a language. It's also about helping them to reach their goals and to live confidently and comfortably in their community.
Project Literacy is a meeting place for learners from around the world where tutors have the privilege to share in their journey. Project Literacy offers great educational support and encouragement and celebrates learners' success.
In her personal time, Gerry likes to be active especially outdoors – walking, hiking and exploring the Okanagan with her partner, playing pickleball and badminton. She also enjoys reading mysteries, playing the piano, and taking part in a local group Next Steps for Walking the Reconciliation Path.
Learning about different cultures continues to be an important part of Gerry's retirement, by travelling to new places and also by tutoring learners who bring their life and their dreams to Canada.
We are so very happy and honoured to name Gerry Hewitt as our December Volunteer of the Month!
November 2022
Felour Behrouzi
Meet Felour Behrouzi, our November 2022 Volunteer of the Month!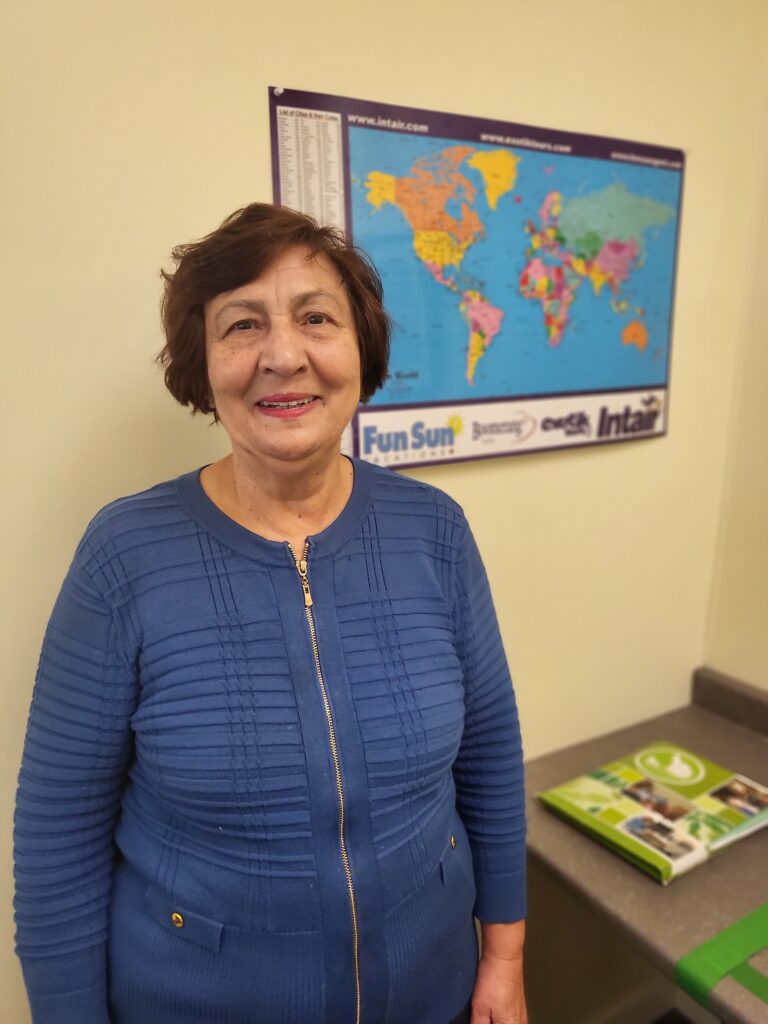 Felour is a retired Registered Nurse. She is originally from Iran but has lived in several countries including Zambia, China and Bulgaria. She and her husband have three children: two sons and one daughter as well as seven grandchildren.
She taught nursing in Iran for two years and at a Zambian Nursing School for ten years. She also taught English a foreign language for one year in China.
Felour has been volunteering with Project Literacy for just over a year. She likes volunteer work, especially if someone can benefit from it — to see the progress of her students with learning English and its effect in their lives. She also loves to learn about different cultures and the beauty of what we all share.
Felour has a love of reading non-fictional books, socializing with friends, new and old, and just being of some help to anyone in need.
We are so thrilled to name Felour Behrouzi as our November Volunteer of the Month!
October 2022
Dale Darychuk
Meet Dale Darychuk, our October 2022 Volunteer of the Month!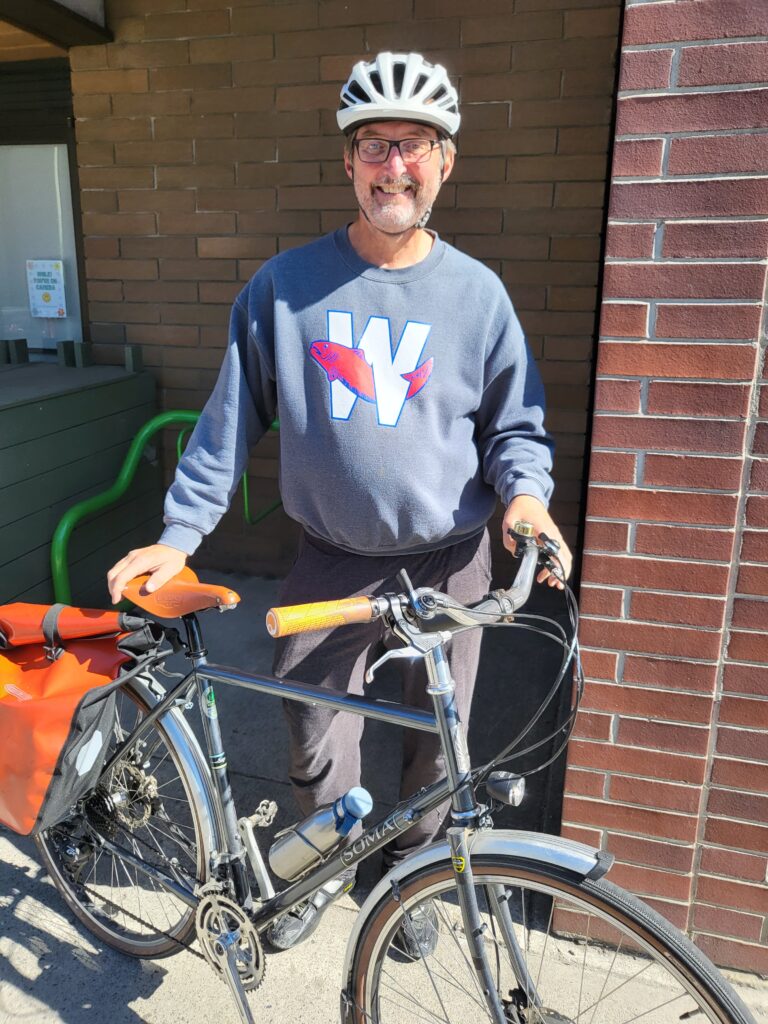 Dale is a retired lawyer who moved to Kelowna, last December with his wife, Tracy, and their three adult daughters. They have one pet: a Flatcoat Retriever named Romeo. They moved from New Westminster and are very much enjoying the Okanagan life with Romeo happily swimming in the lake, most days. They also enjoy volunteering with the Okanagan Fruit Tree Project at their vegetable farm plot — planting, weeding and harvesting some fabulous vegetables for local charities.
Dale became involved with Project Literacy after attending the presentation of their radio play, "For the Love and Apples," presented at the Kelowna Community Theatre in March 2022. He decided to start tutoring as a way to meet some interesting people and make a small contribution to assisting people in adapting to the English language and Canadian lifestyle. As a student of languages and a traveler, he knows the difficulty of learning a new language and fitting into a foreign culture. Dale has no tutoring or teaching experience, however, he has been on the other side as a student while attempting to learn Italian and is empathetic to his students' plight.
Dale enjoys learning from his students about the lives which they left behind to come to Canada. He loves to learn about their country, especially their every day activities, such as what they eat, their transportation systems and how they spend their personal time. Dale also takes delight in enlightening his learners, in return, about Canadian elements such as the hockey team: Toronto Maple Leafs, not "leaves" — despite it being grammatically incorrect. He knows that English is an extremely difficult language with all it's silent letters, idioms and own set of rules. He truly enjoys his time at Project Literacy and it's very rare that Dale and his students don't have a good laugh in their lessons.
Dale has great admiration for the hard work and diligence his students have in attending their weekly lessons whilst also working full-time and adjusting to Canadian life. It is always inspiring for Dale to meet that diligence and do his best to encourage them and to give them the opportunity to achieve their goals in their new lives.
When he is not spending his many hours at Project Literacy, Dale loves cycling, reading, and gardening. He and his wife also enjoy new challenges. Since coming to Kelowna, they have taken up rowing and they are working on eliminating the pontoons on their rowboat. They've also taken up tap dancing! Their middle daughter was married in July and they performed a tap dance to the song "Crazy Little Thing Called Love," at their reception. They had so much fun with the choreography and hope to create another routine for Christmas!
We are so happy to name Dale as our October Volunteer of the Month!
September 2022
Dennis Averill
Meet Dennis Averill, our September 2022 Volunteer of the Month!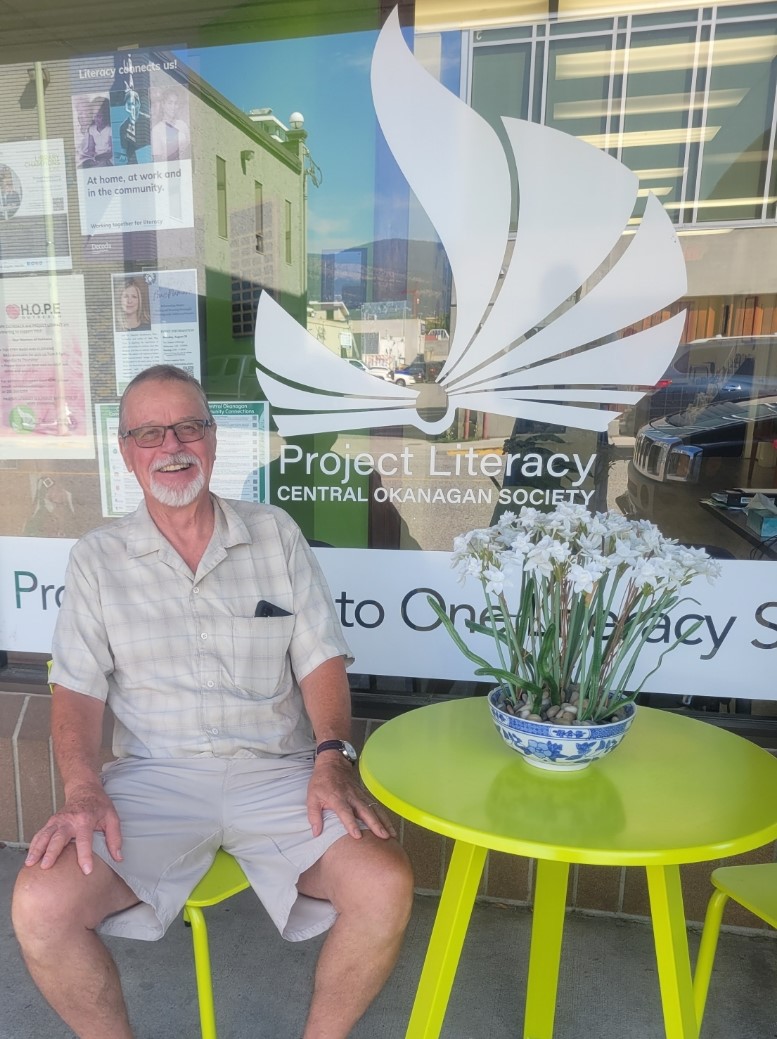 Dennis lives with his wife, Judy, and their two cats.
He has been volunteering with Project Literacy for four incredible years.
Before tutoring with us, Dennis was a teacher for over 40 years. He taught elementary, middle and high school and college students. He also delved into the administrative side of education.
He began tutoring with Project Literacy because he enjoys working with adults, especially new immigrants to Canada. Not only do they learn from him but he loves learning from them — new things from each one.
Dennis enjoys seeing the different perspectives from various cultures. It fills him with a sense of gratitude for having been born into a Western culture.
In his spare time, he loves to exercise, dance, explore local surroundings, target shoot, Single-Lens Reflex (SLR) camera classes, researching UFO phenomena and watching movies. He a true movie buff.
We are so pleased to name Dennis as our September Volunteer of the Month!
August 2022
Tom Morton
Meet Tom Morton, our August 2022 Volunteer of the Month!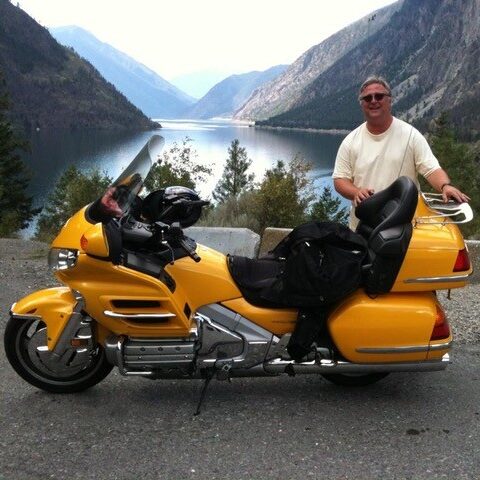 Originally from Winnipeg, with stops in Calgary and Vancouver, Tom and his family decided to retire to Kelowna in 2021. He shares a role of servitude for two alpha felines: Blue and Figaro.
After joining Project Literacy through their Volunteer Fair in September, he was entrusted with his first learner in October 2021 — UBCO foreign students and two families who decided to immigrate to Canada and make Kelowna their new home.
Tom's professional experience includes corporate training, however, Project Literacy is his first opportunity to support individual learners. Appreciation for the teachers and professors who left a positive imprint in Tom's life was a catalyst for his decision to become a tutor at Project Literacy.
Also, growing up in an ethnically diverse neighbourhood in Winnipeg, witnessing the challenges immigrant families faced as they started their new lives in Winnipeg, contributed to Tom's decision to help newcomers to Kelowna learn English and assist them with their transition to Canada.
The leadership, guidance and support by the team at Project Literacy provide the relevant tools and curriculum necessary to help learners achieve their English language goals.
Complimentary, and equally important, is the opportunity to help leaners with a variety of tasks that could include academic papers for UBCO students, reviewing driver education manuals, completing government forms, resumés, job applications etc. Tutoring at Project Literacy is also a learning experience for tutors as learners share stories about their countries' culture, history, events, politics and family experiences. Their excitement for a new life in Kelowna and Canada is contagious.
Tom's greatest pleasure is time with family and friends.
Tom is active with Prostate Cancer Foundation British Columbia as a member of the Board of Directors and the organizing committee for the West Coast Motorcycle Ride to Live. Also, joining the Kelowna Newcomers Club has been an excellent opportunity to meet people who share similar interest in sports, cultural events, dining and entertainment.
We are so very delighted to name Tom our August Volunteer of the Month!
July 2022
Ann Dinnert
Meet Ann Dinnert, our July 2022 Volunteer of the Month!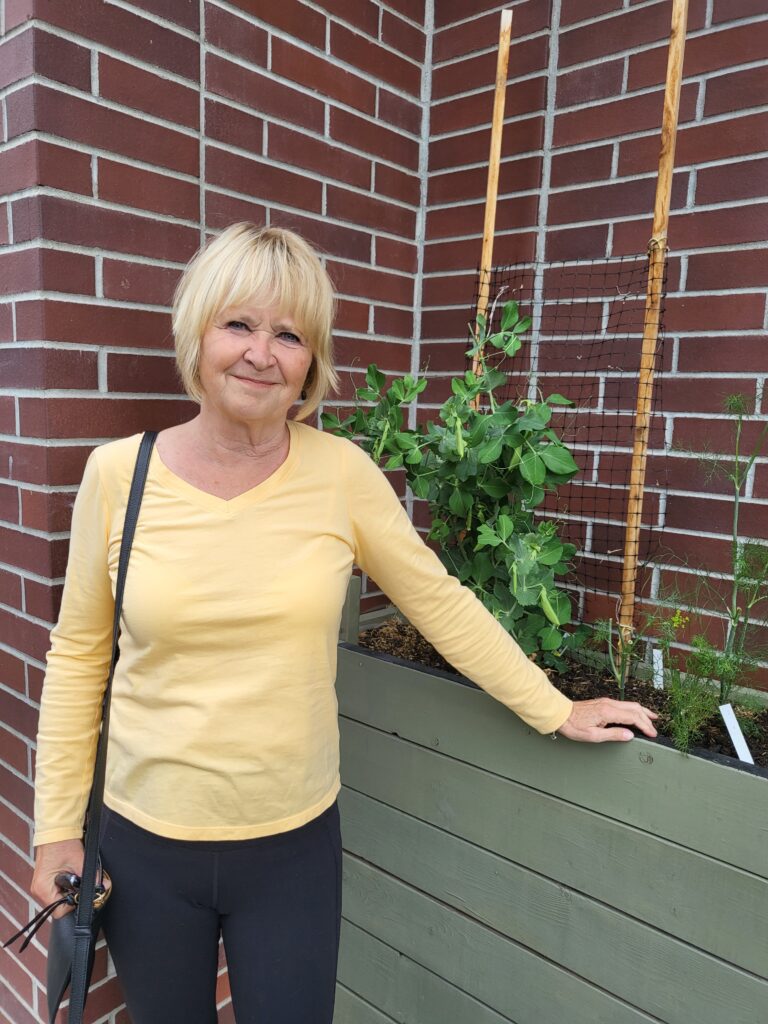 Ann is married to Bernd, an immigrant from Germany, many years ago. They lived in Toronto and the surrounding area for most of their working lives, before they retired and moved to Kelowna in late 2015. She has an independent step-daughter, Sabine, and a dog, Callie.
She has been volunteering with Project Literacy since 2017.
Before tutoring with Project Literacy, Ann was a successful lawyer. As such, she has an deep appreciation for the English language, and she also enjoy learned new languages herself. In doing so, she felt that she had something to contribute to the language learning community.
The passion started with the Syrians, who were in the news in 2016-17. She enjoys international travel, and wanted to do something to help the Syrian Refugees integrate smoothly into Canada. She found they were largely coming to Kelowna and, in the process or her search to help, she found Kelowna Community Resources. This amazing centre partners with Project Literacy, which later lead Ann to our Learning Centre! She found that teaching English was the way she felt most suited to helping immigrants.
Ann loves helping immigrants to integrate and feel welcome within Canada. She also takes pleasure in learning from them about their own lives and cultures in their home country, and their new lives in Canada. She also, very much, delights in learning about how to teach, and how each person learns differently; things that she has been learning organically whilst tutoring.
Ann enjoys pretty much all of what Kelowna has to offer, including hiking, boating, downhill skiing and snowshoeing, golfing, wine, reading and travel.
We are so very delighted to name Ann our July Volunteer of the Month!
June 2022
Sanaa Katula
Meet Sanaa Katul, our June 2022 Volunteer of the Month!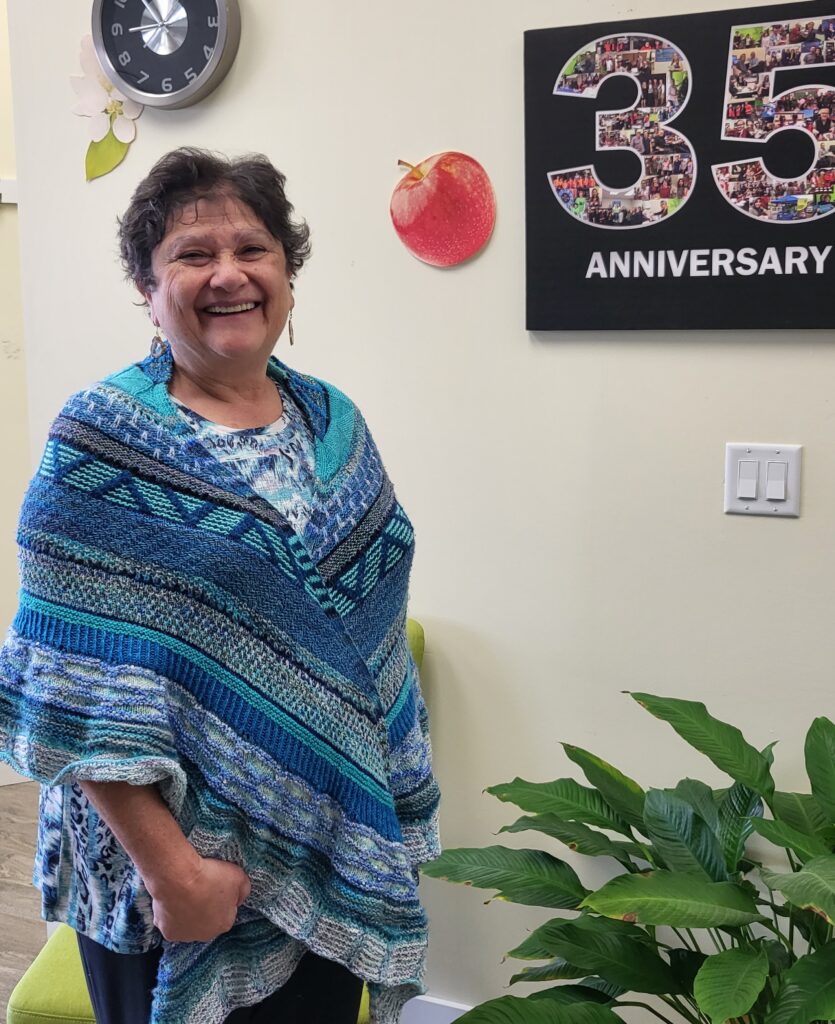 Sanaa moved to Canada almost eight years ago with her two younger boys. Her two older sons remained in Lebanon. All four are her pride and joy.
She has been volunteering on and off since for over fifteen years.
Sanaa is a teacher by profession with a degree in special education.
She knows how difficult it is to move to a new country, especially when one doesn't speak the language. It is so easy to feel isolated when you can't communicate with people outside your household. Sanaa is so glad she can make use of her qualifications and empathetic nature to help.
For Sanna, the best part about tutoring is the students. She has been so lucky to teach so many inspiring people who are determined to learn, and who, in spite of the many difficulties, still manage to come regularly, on time, with a smile on their faces.
In her spare time, Sanaa loves all kinds of crafts: knitting, painting, mosaics, and quilting. She enjoys taking long walks in Kelowna's beautiful parks. Her greatest passion, however, is reading.
Sanaa is a lovely bit of sunshine, here, at Project Literacy and we are so pleased to name her the June Volunteer of the Month!
May 2022
Geoffrey Barrow
Meet Geoff Barrow, our May 2022 Volunteer of the Month!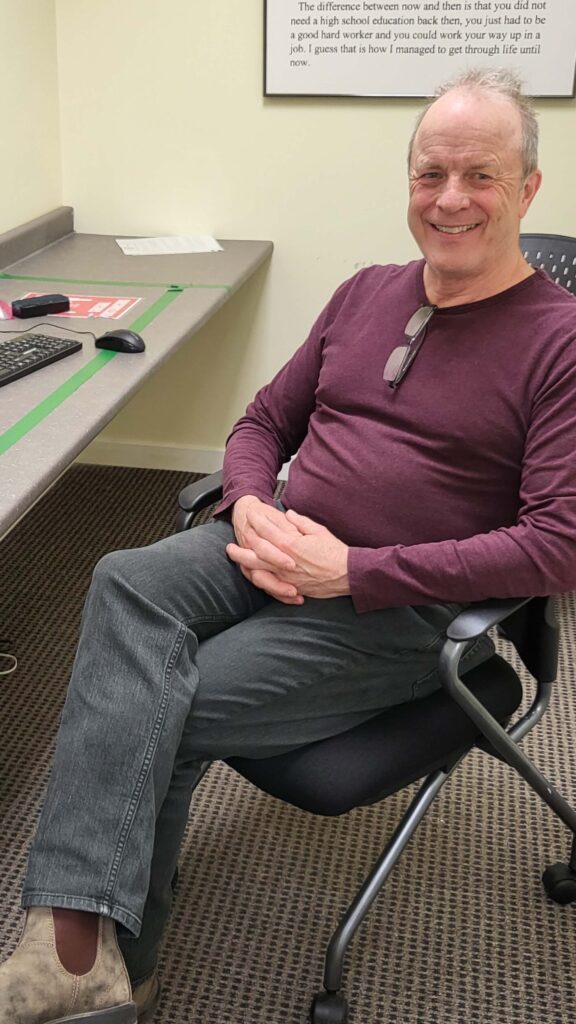 Geoff is married, retired, and a proud grandparent. He feels he is pretty much living the dream.
Geoff has been tutoring with Project Literacy for almost eight years! Having never taught or tutored before, this was a new experience for him and he's never looked back. He has always enjoyed reading and wanted to extend this skill and passion to others. Upon his retirement, he found he had more time at his disposal and chose to join Project Literacy to do just that.
Most of the Learners he has tutored, over the years, have been recent immigrants to Canada. From them, he has learned a great deal about their countries of origin and the cultures from which they come. Through them, he is reminded of how fortunate we are to live in Canada. By them, and their dedication, he is constantly inspired. Being able to share their successes is just a bonus for Geoff.
In his spare time, Geoff enjoys hiking, kayaking, and cross-country skiing. His grandchildren are the greatest pleasures of he and his wife's lives.
Geoff is a dedicated and generous Tutor, here, at Project Literacy and we humbly award him the title of May Volunteer of the Month!
April 2022
Blaine Rose
Meet Blaine Rose, our April 2022 Volunteer of the Month!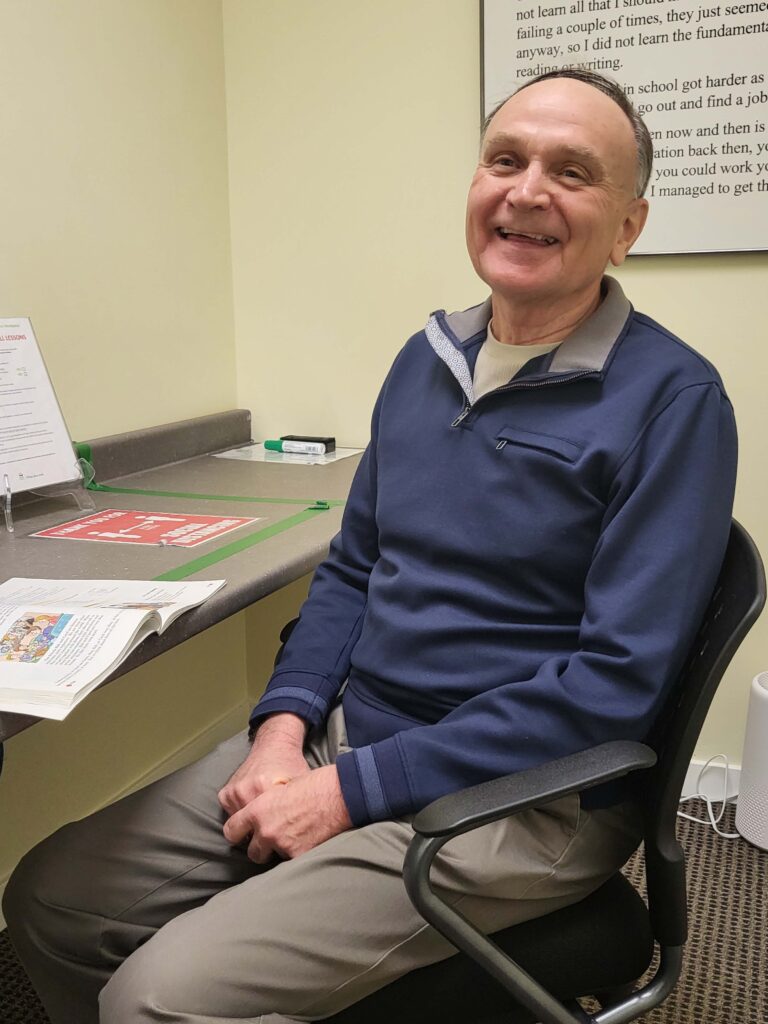 Blaine grew up on a farm in southwestern Manitoba and as a young lad, enjoyed the cattle and especially the playful newborn calves. Eventually Blaine moved to Alberta and worked as an elementary school teacher in Northern Alberta, teaching indigenous students for 2 years prior to teaching in Calgary. When he retired from teaching, he worked as a 'Work Experience Advisor' at a private college, in Calgary, before settling in Kelowna.
Before tutoring with Project Literacy, Blaine had experience working as a private tutor with elementary school students. Once he was retired he wanted to find meaningful ways to spend his time and approached Project Literacy to begin volunteering. A couple of years later he also began volunteering as an ambassador at Kelowna's airport. Blaine has now been volunteering with Project Literacy for 12 years.
Blaine enjoys working with the students one-on-one at Project Literacy and getting to know them. Blaine loves that Project Literacy is a warm , welcoming environment with a caring and committed staff.
These days, Blaine likes to spend time with his family and friends. He loves to read, play golf, volunteer and he's looking forward to being able to travel again once it is safe to do so!
Blaine is such a positive asset to Project Literacy and we are proud and grateful to him for so many years of support and service. We are honoured to call him our April Volunteer of the Month!
MARCH 2022
Glenna Turnbull
Meet Glenna Turnbull, our March 2022 Volunteer of the Month!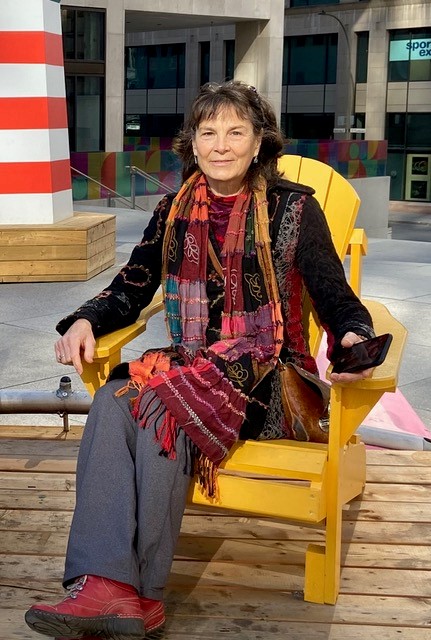 Glenna started volunteering with Project Literacy back in 2011 as a member of the board. She completed a two-year term and enjoyed it very much. She also helped organize and promote the Wine & Words fundraising event with some other amazing board members. It wasn't until COVID-19 hit and her professional workload lightened substantially that she was able to start volunteering as a tutor in the summer of 2020. She felt very lucky to learn early in life how wonderfully satisfying it is to volunteer. While serving on Project Literacy's board, Glenna glimpsed the impact that tutoring could have on people's lives, so once her schedule and solo parenting duties made it possible, she put in her application to tutor.
What she loves most about tutoring is the amazing opportunity it gives her to meet and work with people who are eager to learn. Without fail, every session with every Learner has some instance where they find themselves laughing and Glenna says she has learned so much from the people she tutors. "It's incredibly satisfying!"
When not tutoring at Project Literacy, Glenna is an avid skier, hiker, and commuter cyclist. She loves camping and snowshoeing, as well, and prefers to be outdoors whenever possible. Yoga has been a huge part of her life for more than two decades as it helps both mentally and physically to cope with life's stresses, as does playing the piano (Royal Conservatory Grade X). Glenna has had several short stories published in literary magazines and currently has two novels that she is seeking representation for. She is also just starting to work on a third.
Glenna raised two sons as a single parent while putting herself through university, taking one or two courses per semester. Her 'boys' are now two amazing young men, both of whom she is extremely proud. Glenna has worked as a freelance writer and photographer most of her adult life and work as a stained-glass artist. She now has two dogs – a wise and amazing senior Border Collie named Finnigan and a new addition, a Great Bernadoodle puppy named Oscar. She is a regular volunteer at the Central Okanagan Food Bank as well as at Project Literacy. Glenna also taught piano when she was younger, during her university years. She had the privilege of being a teaching assistant for her Creative Writing professor, John Lent. Other than that, however, she had little experience with teaching and/or tutoring and that made her nervous. She wasn't entirely sure how to start and hoped she'd learn what to do quickly!
We feel so lucky to have such a committed individual volunteer with us. Glenna's passion knows no bounds and she always jumps at the chance to help whenever needed. We didn't hesitate when coming to conclusion of choosing her for our March Volunteer of the Month!
FEBRUARY 2022
Byron Johnstad
Meet Byron Johnstad, our February 2022 Volunteer of the Month!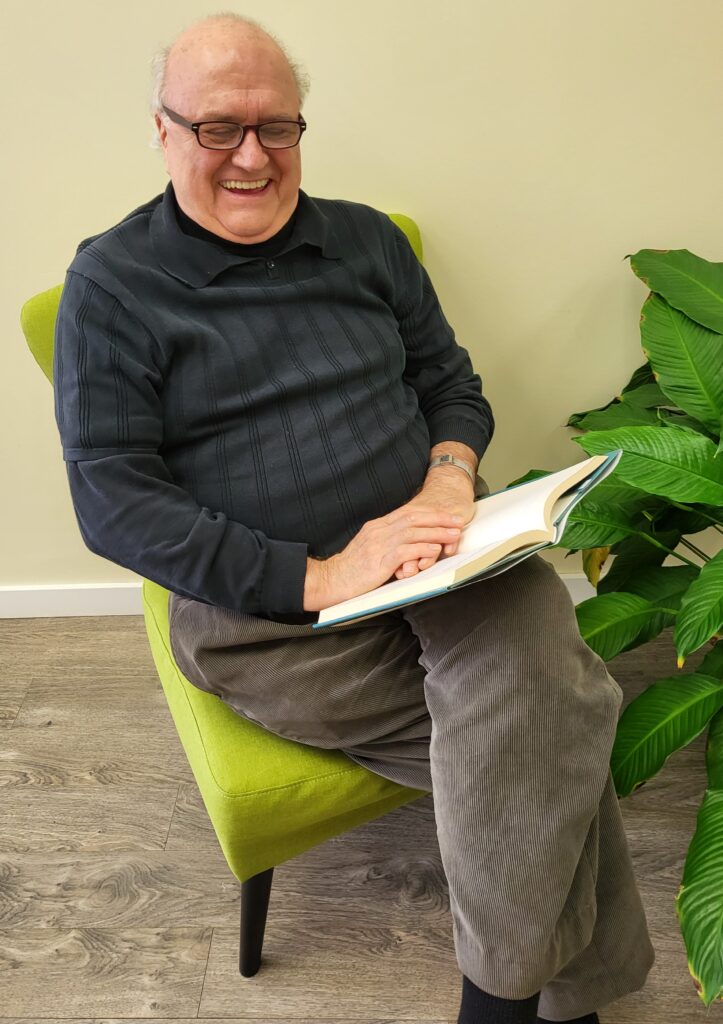 If you visited the Project Literacy office over the Christmas holidays, you would have seen some of the lovely decorations, including a beautiful wreath that Byron graciously donated for our Holiday 2021 Season. Byron was born and raised in Chicago, Illinois and immigrated to Vancouver in 1967 and attained his Canadian citizenship in 1973. So, immigration is also part of his personal story.
Byron has been tutoring with Project Literacy for approximately 8 years! He holds a Master's Degree and taught for nearly 27 years in post-secondary institutions in BC. After retiring in 1997, he has worked at keeping his time, mind and skills engaged with post-retirement activities such as teaching, along with display design and teaching Interior Design. Byron sees volunteering is one of the ways that he can give back to his community and being part of Project Literacy allows him to share and utilize his teaching experience and instructional skills.
Through volunteering at Project Literacy, Byron feels tutoring English to new Canadians is a very meaningful way to create real change in our learners lives. Byron says, "acquiring and expanding language and knowledge of Canada gives our learners skills that help them integrate, achieve, prosper"… thus, they become a more comfortable resident in their newly adopted country and with a new language.
On a more personal note, Byron has maintained an aesthetically developed home and garden and enjoys searching for undiscovered and undervalued antiques or collectibles in local thrift shops. Byron acknowledges that at his advanced age of 8o he is required to cut back on some of his more physical activities, however teaching is using the brain muscle and it is easy enough to continue to exercise this way!
Project Literacy would like to thank Byron for his enthusiastic efforts and years with us. We are proud to honour him, with the title of February Volunteer of the Month!