"It was always a dream of mine to speak English. When I was a child, I begged my parents to go to an English school, but because my parents could not speak English the school system would not allow it and I was never given the opportunity." – Julie
Julie is a French-speaking Canadian who came to British Columbia from Quebec two years ago. Julie is an educated social worker in Quebec. Project Literacy was one of the first places she went to obtain help with her English skills. She fondly remembers it as her "first family" in the Okanagan.

Julie began attending Project Literacy at the Monday Conversation Club – a class where learners socialize with one another and strengthen their group communication skills. She also attended tutoring classes one or two days a week for a year. During these tutoring sessions she improved her spoken and written English communication. Some of the skills prac­ticed were: interview skills, formatting and writing cover letters, resumes, and filling out applications for courses and jobs.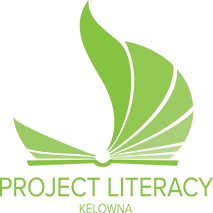 Julie describes her experience at Project Literacy as enjoyable and the staff and tutors as very personable. She also speaks highly of the system utilized at Project Literacy since each program is tailored to the individual's needs. The tutors are extremely helpful and the organization assists learners to connect with other people and resources in the area. Overall, Project Literacy helps individuals gain their independence in the community.
"Language connects people around you. Project Literacy has helped to find friends and have a real conversation. I am also more confident in my job. As a social worker it is so important to communicate well for yourself and your clients. I am in more control of my life now." – Julie
She now speaks English quite fluently and does private tutoring for children and adults who are learning French as a second language in the region. She is also working to become a contracted Social Worker at an adoption agency where she can utilize her bilingual skills to work with both English and French-speaking couples.
Project Literacy supports a variety of individuals in the region who have a variety of educational needs. This year the organiza­tion is celebrating its 30th anniversary and it could not have come this far without the support of donors, volunteers, tutors and devoted staff members.