Are you furthering a career in trades, technology, health care, or social development? Could you use the support of a skilled tutor to help you with English, math or some other subject matter that you need to master?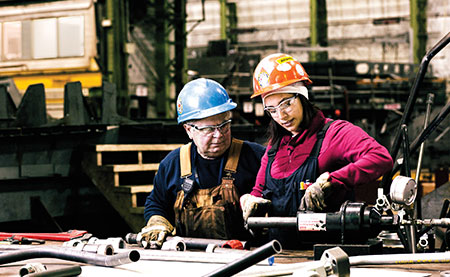 A tutor-learner match may run for weeks or years, depending on a learner's goals. Goals may be specific and short term. For example, 10 hours of math skill upgrading may be all that is necessary for a learner to prepare for the 2 year classroom portion of a trade ticket. Alternately, goals may be broad or long term. For example, a learner with only a Grade 6 education might spend a year or more preparing to take the GED for a Licensed Practical Nursing entrance exam.
Project Literacy's highly qualified tutors will work with anyone trying to upgrade their literacy skills, whether they need help to get into a college program, help while they are taking their courses, or help preparing for exams. They will also assist those who already have jobs but feel they could perform better or advance more quickly if they could enhance their literacy skills.
Our learners often return twice or even three times for additional literacy assistance. Our commitment to lifelong learning dictates our open door policy, which welcomes learners to continue to progress as long as they wish and encourages them to return as frequently as they need.
Learner Story
"When I came to BC from Ontario I had lots of experience welding but because I didn't have the necessary tickets I couldn't find a job that paid more than $20 an hour. I'm a single dad and I need to make more than that to raise my son properly. I applied to Okanagan College to get my "C" ticket but bombed the math portion of the entrance exam.
A friend suggested I drop by Project Literacy to see if I could get a math tutor, so I did. I was matched with Dennis Barnes. We met every afternoon in one of the Project Literacy offices and he gave me assignments to do for the next day. When I wrote the entrance exam again I passed and got 87% in the math portion – I couldn't believe it! I was so happy I insisted on taking Dennis out for lunch."
I finished my C ticket courses, and went on to get my B ticket as well. I'm set to write the next Red Seal Interprovincial examination in a couple of weeks. I've applied to get my "A" ticket as well so I can take on jobs that require me to weld stainless steel. The help I got from Project literacy and Dennis Barnes was way beyond what I had expected … I still can't believe it was all free!

Will