Events
Short Story Contest Winners
In celebration of our 35th Anniversary, Project Literacy held a special Short Story Contest. The contest was open to both youth, 18 and under, and adults, 19 and over. The story was to be fictional, and no longer the 1500 words in length for adults and 750 words for youth. Project Literacy would like to thank everyone who submitted their incredibly imaginative pieces of work and our amazing judges who helped in the selection process.
We're so proud to announce the following winners:
19 and Over – 1st Place Winner
Zero-G Raffe by Jordan Ewert, 24 years old
"Why does mom have to work so much?" Tilly asked, "She didn't even get to come home for Christmas last year."
"I know its hard Teacup, but you have to understand her job requires her to make these trips to support many different projects. Your mother and her work are especially important."
"More important than me?" Tilly asked. Tears formed in the corner of her eyes.
Domonik knew it had been difficult for Tilly, especially the last couple of years, when her mothers' trips became more frequent.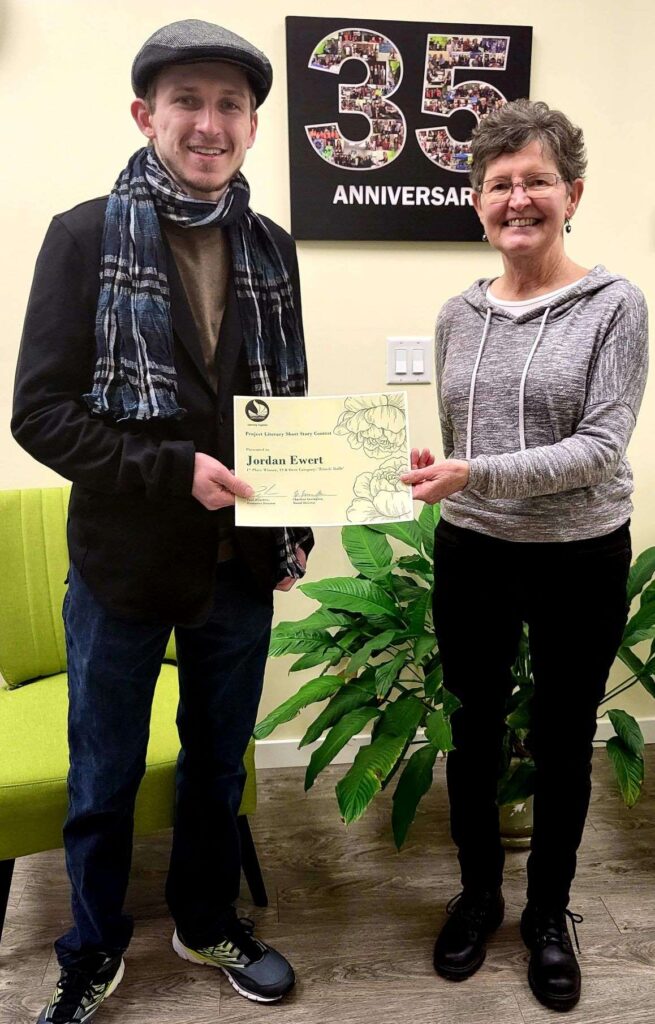 Jordan Ewert with Charlene Covington, Board Member
JUDGE COMMENT:  "I loved the storyline of this, how it was the mother up on the International Space Station and the creative father who designs a spacesuit for his daughter's giraffe."
18 and Under – 1st  Place Winner
The Lone Tree by Raine Wierstra, 16 years old
With every day further into autumn, I saw the elegant Maple's leaves change into vibrant reds
and yellows, while my forest green needles stood out like an eyesore. The children built heaping
piles with the fallen leaves and raced to jump into it; they didn't play with my sharp, sticky
needles when they fell.
"I wish I was a Maple tree. I wish I was a part of the family." I would plead out.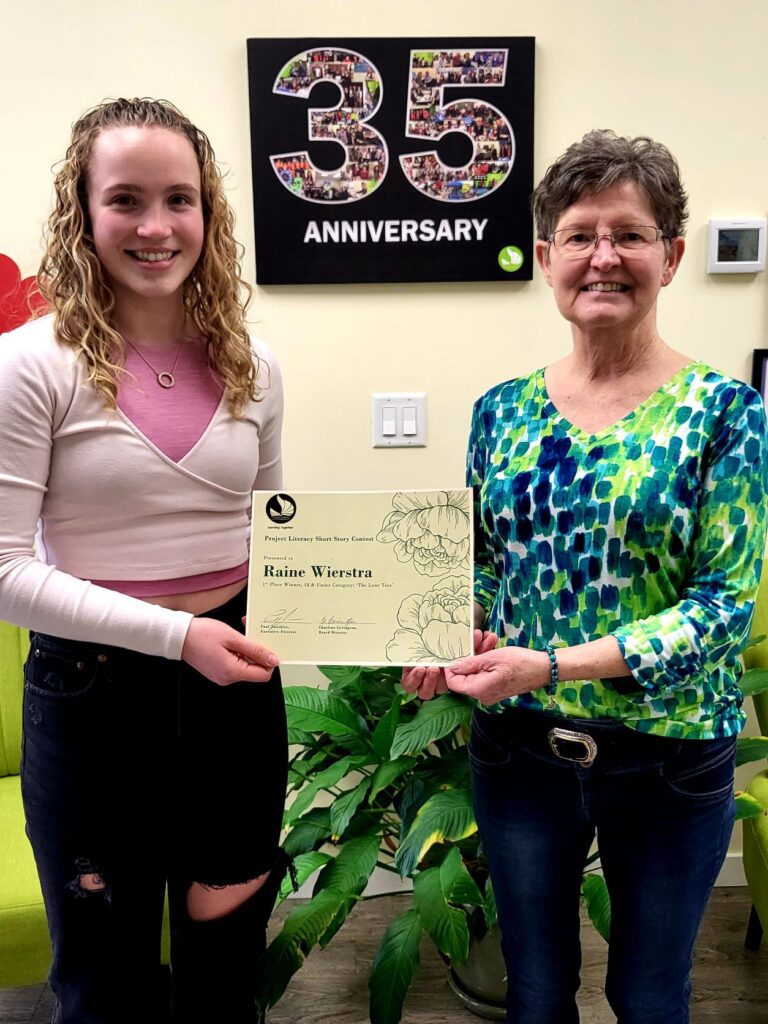 Raine Wierstra with Charlene Covington, Board Member
JUDGE COMMENT:  "I loved the simplicity of this story. It is elegantly written with some beautiful imagery and handles the subject of diversity in such a refreshing light."
19 and Over – 2nd Place Winner
The Bull in the Garden by Megan Allan, 19 years old
Asterion's father had poisonous eyes. If he looked at them his father would yell and hit him. To escape his anger Asterion would go to the garden. There were trees that overflowed with the tastiest peaches and baskets laden with fragrant flowers. A great marble bull leaped over nothing in the center of the courtyard. Asterion wanted to ask it what it was jumping over, but he was pulled away by his sister, who was holding up a pair of gleaming bronze swords that were really just dull sticks. Today they played Heroes. The fountain in the courtyard was the ocean and the marble bull was the great sea monster that must be defeated. They played joyously for hours and hours. Asterion cannot smile, but he always thought this is what a smile would feel like.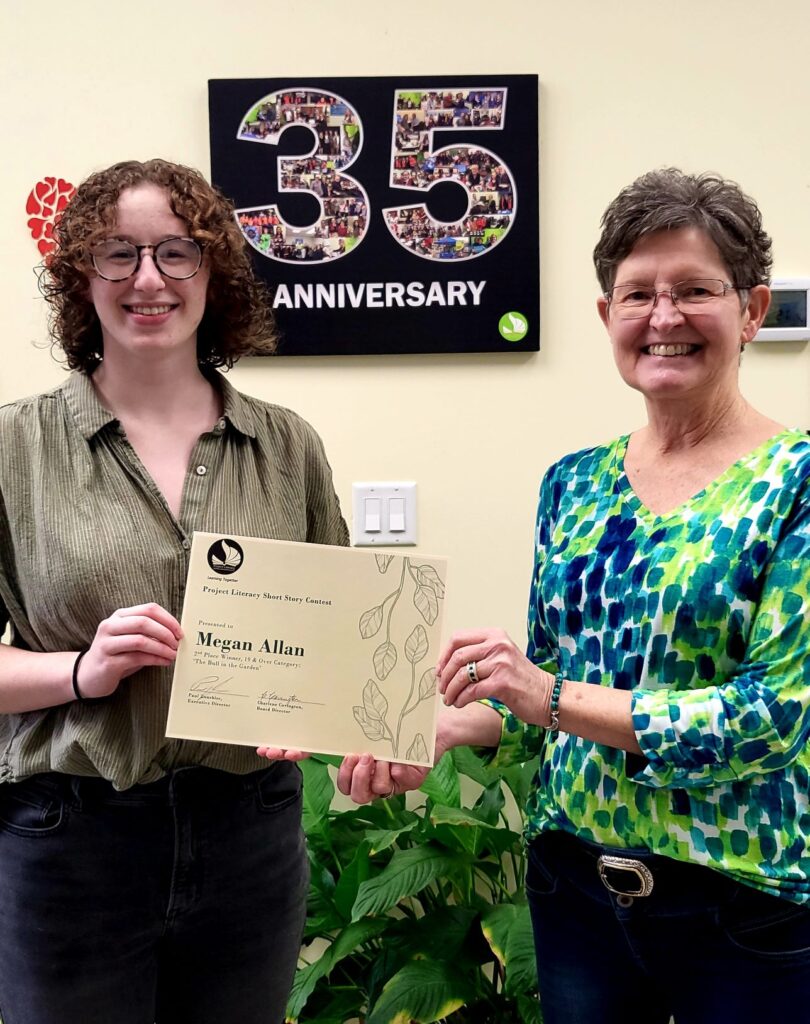 Megan Allan with Charlene Covington, Board Member
JUDGE COMMENT:  "I loved that the writer told this story from a Minotaur's point of view and found it to be cleverly crafted around the tale of Ariadne and Theseus in Greek mythology."
18 and Under – 2nd Place Winner
The Cat Gang by Oliver Renz, 9 years old
I could tell that they were planning to escape. I could see them looking out the window trying to figure out how they will get out and maybe rule the earth. They're very clever and with
their cuteness they're unstoppable. It's just a matter of time until… CRASH went the window. Glass flew everywhere!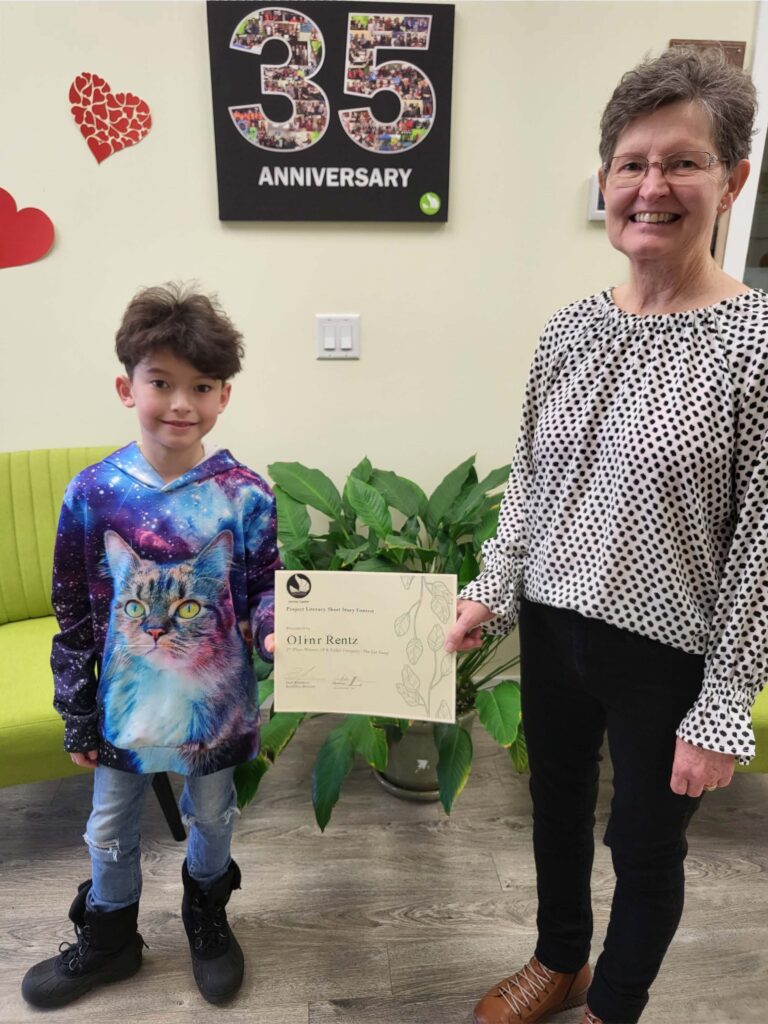 Oliver Renz with Charlene Covington, Board Member
JUDGE COMMENT:  "The narrative was so strong in this piece. The writer has a very distinct voice and brought each scene to life. And who couldn't help but love a story that deals with cats wanting to dominate the world?!"
Honourable Mention #1
Meet Super Tomato by Kaitlynn Dodds, 10 years old
"I am Super Tomato here to keep the town safe. Who are you?" He asked. " I am Evil Tomato trying to capture this cucumber." Super Tomato yelled "Let her go or I will take you to Jail." There was an altercation. Evil Tomato let go of the cucumber. Super Tomato had stopped him from taking Cucumber. Super Tomato sent a text to Good Scientist. "I need your help I have an evil tomato. Get your good zapper ready". Good Scientist got to work.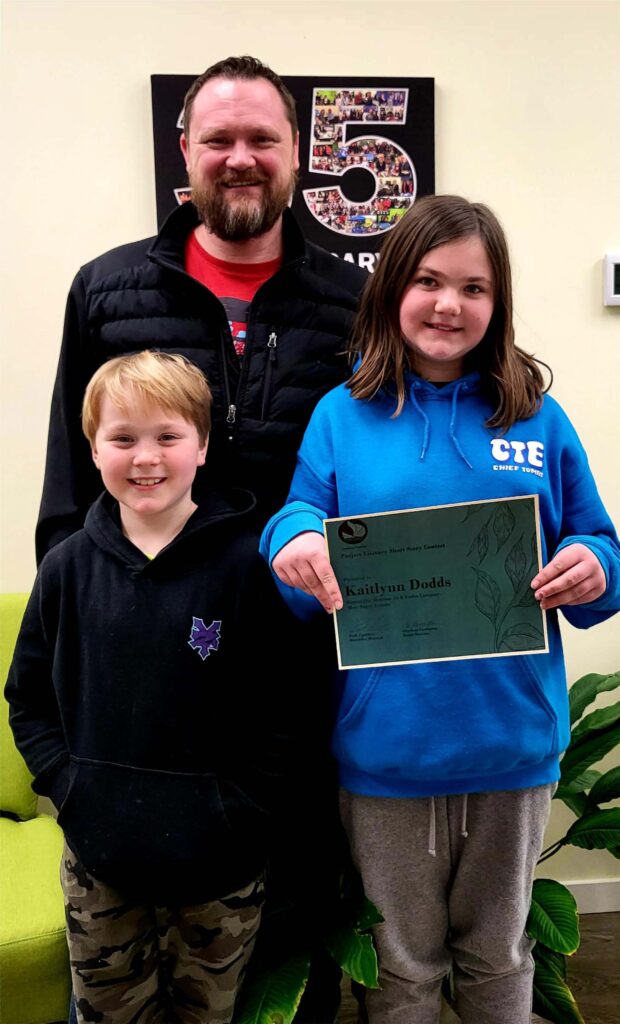 Kaitlynn Dodds and Family
JUDGE COMMENT:  "Meet Super Tomato was fresh, funny and extremely creative. It barreled along on its almost comic book style storyline with lots of great twists and turns."
Honourable Mention #2
The way back home by Noa Robinson, 11 years old
Later, Anya said "hiking time!" The kids hated hiking so they complained. But when they did Anya said "stop complaining or you lose 2 weeks of Fortnite and Youtube and Minecraft." So the
kids stopped complaining. Then Noa (one of the kids) said "we can still play Shell Shockers." So anyway they drove to a mountain and hiked all day and got lost. It started to get dark and Apa
said "Kids, we will have to stay here for the night." So they built a fort and went to bed.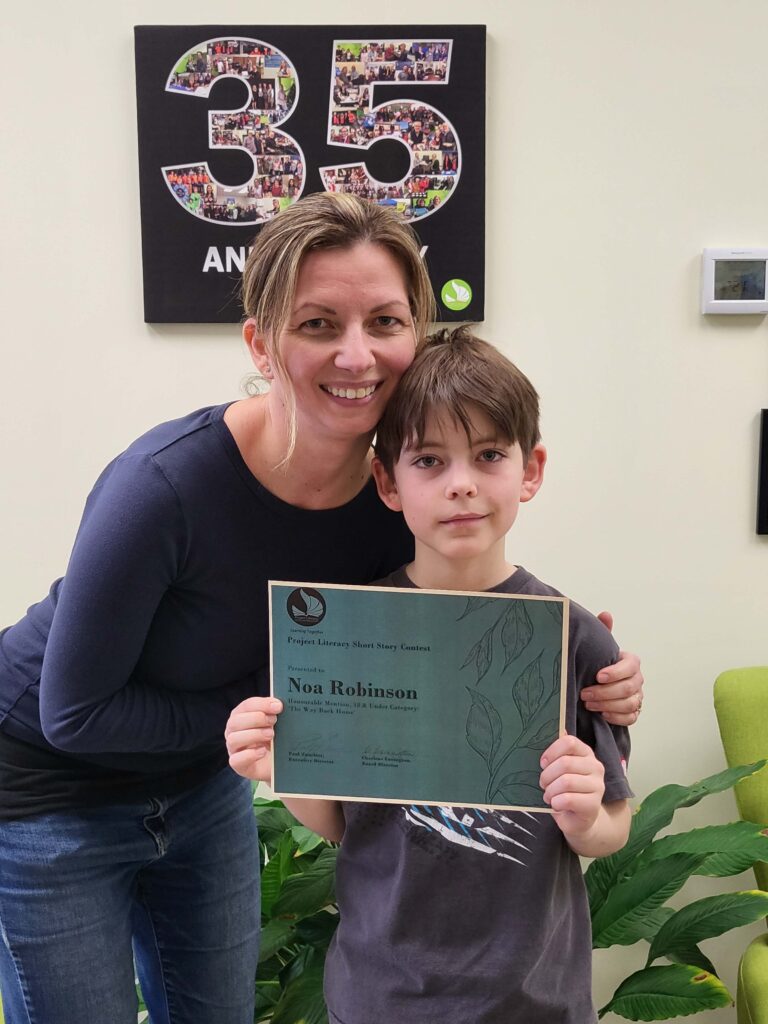 Noa Robinson and Mom
JUDGE COMMENT:  "This story had me laughing out loud! It was so imaginative, I didn't want it to end. And long after I'd finished reading it, it kept coming back to me and making me laugh yet again."