CASTING CALL!
Project Literacy is holding a non-professional Casting Call for a new radio Play, 'For Love and Apples' by Paul Zuurbier and Lee Karvonen, directed by Neal Facey. Sound Design and Editing by Jodie Bruce.
Auditions will be held Tuesday, December 7th, 2021 and Thursday, December 9th, 2021 6pm – 8pm (we can add more time here if needed, but we only need about 8 minutes per person.)
Two live, one-hour staged readings will be performed at the Kelowna Community Theatre – Main Stage, on Sunday, February 6th, 2022. The play will be recorded, edited and later aired for radio.
Auditioning actors are asked to prepare a 1-2 minute contemporary monologue (no Shakespeare or other classics) which demonstrates their range as an actor and be prepared to cold read a selection from the play. Auditions will be held at Project Literacy, 1635 Bertram Street, Kelowna.
Please email April King at [email protected] with a one page resume; listing your acting credits since 2010. If this is a new experience for you, please let us know that too. Please include a recent photo. There is no need for a professional headshot; a candid face picture will be fine. If you are interested in auditioning, a time/date will be appointed to you. Please advise if one date is preferable to the other.
There will be rehearsals scheduled for mid December. In January, there will be two evening and one weekend rehearsal each week. Dates and times will be determined with the cast.
See roles listed below.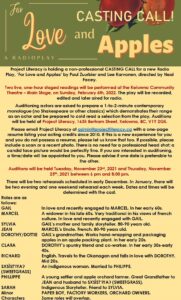 Tickets are available through Eventbrite at https://www.eventbrite.ca/e/219311004117